How to Install Sheet Vinyl Flooring? [4 Methods]
Vinyl sheet flooring is one of the most long-lasting and water-resistant flooring options for your home. Vinyl sheet flooring is nearly 100 percent waterproof, making it a great floor covering for kitchens and bathrooms—a claim few other floorings can boast.
Some do-it-yourselfers may avoid vinyl sheet flooring because they believe it is too difficult to install. There are a few challenging aspects to sheet vinyl installation, but none are insurmountable once you know the solutions.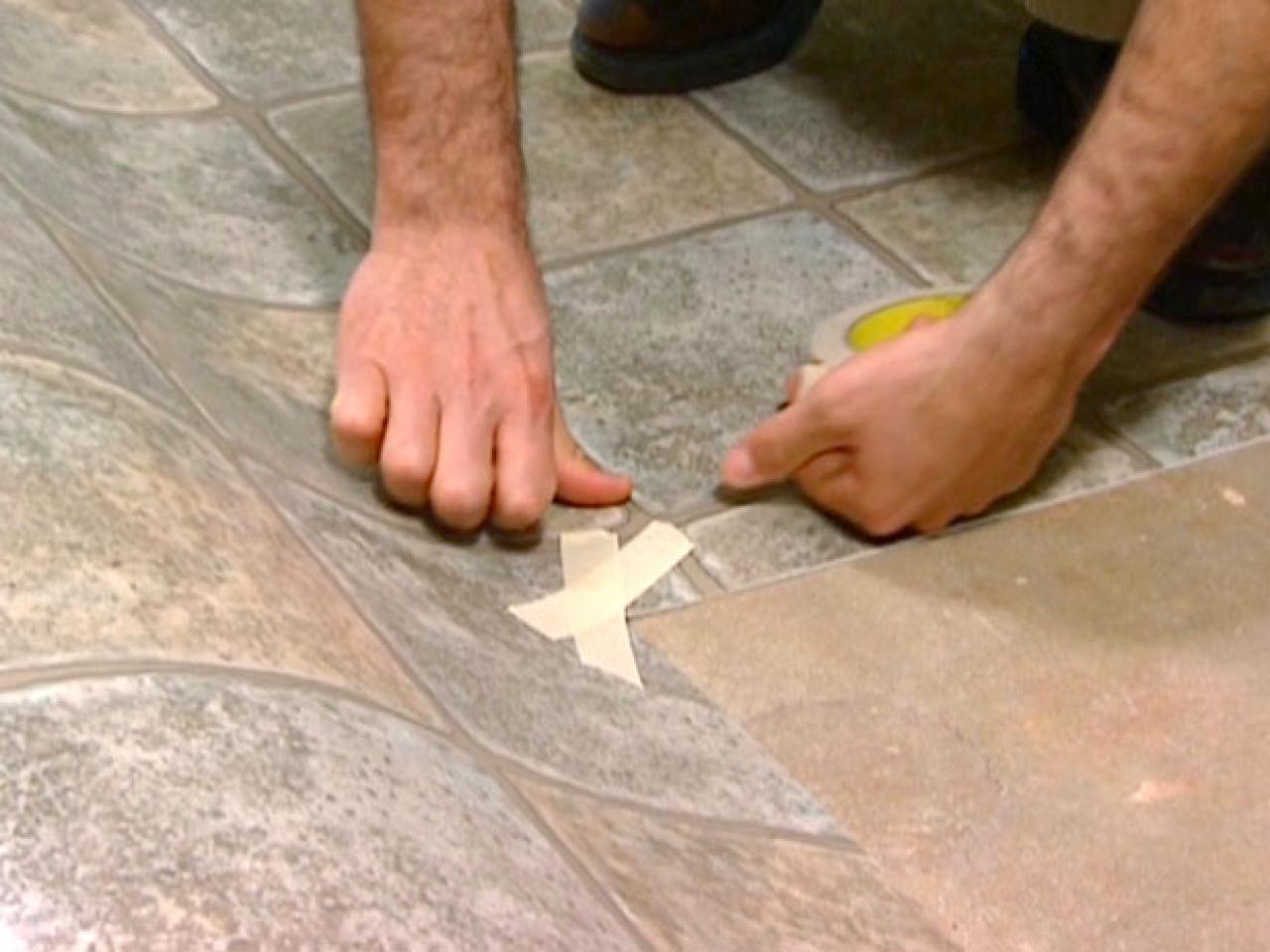 Other Related Articles:
How to Repair Laminate Flooring Water Damage
How Long Does Laminate Flooring Last
Preparing Your Workspace
First and foremost, prepare your space.
We were working in a small bathroom, so we had to remove the vanity and toilet, which was part of our overall renovation plan.
If you have baseboards, you should also remove them.
After that, sweep and mop the floor.
The square shape on the right side of the picture below is the remnant paper backing from the previous vinyl floor that was installed in that location.
When I first discovered this floor, I was able to remove the most of it.
It was a white hex tile that had been installed in our 1900 home originally.
I was overjoyed when I discovered it, but it turned out to be filthy and had several cracks in the floor, which disappointed me.
Ultimately, we chose to replace it with this environmentally friendly vinyl flooring.
I went for a hex tile pattern since it appealed to me, but this type of flooring is available in a variety of designs and colors, including tile and wood effects.
How to Install Vinyl Flooring: Three Different Approaches
First and foremost, you must ensure that your subfloor is both level and clean before installing any form of vinyl flooring.
This may entail the use of a self-leveling tool, sanding, or the application of an underlayment.
A few types of vinyl planks, such as waterproof vinyl and firm core, are thick enough to hide faults in the subfloor beneath them.
However, it is recommended that you level your flooring before installing your vinyl to guarantee that no transposing happens; this is especially true when using thinner vinyl.
Allowing vinyl flooring to remain out and unwrapped for at least 24 hours before installing it will allow it to become acclimated to the room.
Method 1: Installing Sheet Vinyl
Step 1: Place the floor in the desired location.
Step 2: Spread the Adhesive on the surface.
Step 3: Allow the Adhesive to cure.
Step 4: Put the floor in its proper place.
Step 5: Attach the remainder of the floor.
Step 6: Complete the bonding process.
Step 7: Attach the Moulding and Door to the Wall.
Step 8: Scrape Off Any Excess Adhesive
Are you a weekend warrior in search of a do-it-yourself flooring project?
Installing vinyl flooring may be a rewarding do-it-yourself project that saves you money while also providing you with the satisfaction of knowing that you did it yourself.
Are you unsure of where to begin? We can assist you!
In the event that you're a reasonably handy person around the house, it's likely that you already have the tools and expertise necessary to install vinyl flooring.
Even if you are a complete newbie, you can easily lay some vinyl flooring!
There are three primary varieties of vinyl flooring: tongue and groove planks and tiles, peel and stick planks and tiles, and sheet vinyl flooring.
That is one of the reasons why vinyl flooring is such a good alternative.
It is well-known for being low-maintenance and simple to clean.
Vinyl flooring is also available in waterproof varieties!
All of these characteristics combine to make vinyl flooring an excellent substitute for real hardwood flooring.
Installation instructions for all three types of vinyl flooring are included in this book.
Method 2:
Step 1: Selecting the Most Appropriate Vinyl Flooring
Flooring America carries a wide variety of vinyl brands.
Felt-backed vinyl flooring and fiberglass-backed vinyl flooring are the two main types of vinyl flooring available.
Fiberglass choices offer higher durability as well as increased comfort and cushioning underfoot, but felt has traditionally been the more popular of the two materials in use.
Both types of flooring include a printed vinyl design layer that is protected by a protective clear vinyl layer and a topcoat, which allows them to resist scratches and scuffs while also being easy to clean and maintain.
It is critical that you obtain correct measurements before placing your order for vinyl.
If you do not take accurate measurements, you may find yourself with insufficient vinyl to complete the task.
Step 2 – Remove any obstructions and old flooring before continuing
According to the type of room in which you're working, you'll have to eliminate a variety of obstructions.
The removal of appliances such as stoves and ovens, refrigerators, and molds is necessary if you're working in the kitchen.
In bathrooms, you must remove the toilet and the baseboards before you can begin.
It is also necessary to remove the old flooring with care.
Using professional installers, who are all well-versed in the numerous problems of flooring removal and installation, will make this tiresome and at times unpleasant task much less painful and time-consuming.
Step 3: Preparing the Sub-Floor
Vinyl flooring should be laid on a flat, smooth surface in order for it to be properly maintained.
Unfortunately, you may have scratched, gouged, or otherwise damaged the sub-floor during the process of removing the previous flooring.
Despite the fact that this sub-floor will be covered by the new vinyl you've chosen, it is still a source of frustration.
Even the smallest irregularities can cause your new flooring to be uneven.
When a subfloor is not leveled properly, it can exacerbate the situation, perhaps resulting in structural concerns that necessitate the services of a structural engineer in some circumstances.
Step 4: Prepare precise measurements and lay an underlayer
Using a paper template to cut your vinyl flooring can save you both time and money if your room is vast or has difficult-to-reach spots.
It will ensure that each cut you make to the vinyl flooring is exact and accurate.
Underlayers of vinyl floor-grade plywood aid in the creation of an even, smooth surface for the installation of vinyl flooring.
The underlayer should be left in your home for up to three days to allow it to become acclimated to the specific temperature and humidity of your home.
If you skip this step, it is possible that the vinyl will reappear in the future.
The underlayer must be put correctly in order to prevent bumps from being obvious on the finished flooring surface.
Depending on the subfloor, this approach can be modified.
Step 5: Installing the Vinyl Floor Covering
Vinyl flooring is available in a variety of shapes and sizes, including sheets and square tiles.
In the same way, that carpet is cut, vinyl sheets are cut in the same way that square tiles are applied in a pattern of some sort.
Don't make the mistake of starting your pattern from a corner with your design.
If you don't start in the middle of the room, your pattern will not be symmetrical.
Although most square tiles are self-stick, vinyl sheeting often requires additional adhesive to adhere to the wall or floor.
It is essential that the vinyl flooring adheres firmly to the underlayer in order for the installation to be successful.
The use of a rolling pin or a floor roller might help to ensure a strong binding.
Divide your work into chunks, and don't go on until the preceding section is finished.
After the flooring has been laid, you must allow the adhesive to dry for several hours before replacing the molding, trim, or any appliances that were previously installed (or the toilet).
Each vinyl flooring purchase from Flooring America that includes installation is backed by a lifetime installation warranty on the installation.
If your vinyl flooring develops problem years down the road that is related to the installation, we will make your flooring right again at no additional cost to you.
Method 3:
Leveling
Any faults in the concrete subfloor should be sanded or leveled prior to installing the flooring.
The use of a self-leveling solution to fill in dips or scars, patching concrete or thin set mortar, or sanding imperfections in concrete are all examples of what you can encounter.
Examine the subfloor for any irregularities by using a level.
Self-leveling chemicals are normally available for purchase at any home improvement store or online.
Because it's a quick-drying concrete composition, you'll want to move quickly when spreading and leveling the concrete.
Using a thin-set mortar to fill in any defects in ceramic or porcelain tile, or a deep-set grout if you're installing over ceramic or porcelain tile, is recommended.
For drying times, check with your leveling type to see what they are.
Typically, levelers must be allowed to dry for at least 24 hours before new flooring may be installed on top of them.
Undercuts and baseboards are two types of trim that are used in the construction of a house.
Make sure to remove all of your baseboards and place them aside before you begin the installation process.
Additionally, measure the distance between the floor and any doors to ensure that they will open freely when opened.
Making a mark on your vinyl flooring and cutting it where your door or doorjamb will need to be cut is a smart method of measuring.
Doorjambs can be cut using a jigsaw or another fine tooth saw, depending on their size.
Cutting a door can necessitate the use of more specialist equipment, such as a circular saw.
Cleaning
Dust and other particles can interfere with the proper click-together of vinyl flooring, as well as cause bonding issues when using tape or adhesive to attach the flooring.
You'll want to make sure your subfloor is as clean as possible before you begin installing your new flooring system.
Make careful to vacuum and sweep up any debris, as well as a mop and degrease the floor if necessary.
It is possible that dust and grime will be kicked up throughout the installation process.
Keep a broom or vacuum on hand in case you need to clean up while you're working.
Measuring
What's the adage, by the way?
Is it better to measure twice and cut once?
This is especially true when it comes to flooring installation.
If you're installing vinyl planks, you'll want to plan the direction of your flooring first, and then measure the width of the room and divide the result by the width of the plank (Room Width / Plank Width).
If you're installing carpet, you'll want to plan the direction of your flooring first.
This will give you an idea of how many boards will fit across the width of your space.
Never reduce the breadth of the last row of planks to less than half of its original width.
It is possible that your initial row of planks will need to be chopped down somewhat smaller in order to allow the last row to be slightly broader as a result of this.
Does that make sense?
For vinyl tiles, the rule is the same.
Plan on at least a 3-inch overage on each edge of the vinyl sheet when working with vinyl sheets, as a rule of thumb.
Method 4: Tongue and Groove Vinyl Plank Flooring Installation Instructions
What happens now that your floors have been prepared and your flooring has been unboxed?
If you're installing luxury vinyl planks (or tiles) that have a tongue and groove locking mechanism, following installation instructions will help you get the job done right.
Tongue and groove vinyl flooring, commonly known as click lock vinyl, is one of the most straightforward methods of installing vinyl flooring.
This form of installation does not involve the use of tape or adhesive, and the result is a floor that appears to be floating.
Our Final Thoughts
Vinyl sheet flooring is one of the most durable and water-resistant flooring materials you can use in your home, making it an excellent choice for any room.
Vinyl sheet flooring is an excellent choice for kitchens and bathrooms because it is nearly 100 percent waterproof, a claim that only a few other types of flooring can make.
Because some do-it-yourselfers believe that vinyl sheet flooring is too difficult to install, they may avoid purchasing and installing vinyl sheet flooring.
Several challenges arise during sheet vinyl installation, but none are insurmountable once you understand how to overcome them.
Frequently Ask Questions
Is it necessary to attach vinyl sheet flooring to the subfloor?
Every plank must be bonded to the subfloor before it can be installed.
If your subfloor is not completely level, this glue-down vinyl flooring installation is the finest option for your home or business.
Is there anything underneath the sheet vinyl?
The rule of thumb is that any vinyl that is over 4mm thick can be underplayed with a vinyl-specific underlayment.
Vinyl floors with a thickness of less than 4mm should be laid directly over the subfloor.
Wherever there is potential for moisture on a concrete subfloor, it is recommended that you utilize a vapor barrier underlayment that will not offer any cushion to the planks.