How To Cut Vinyl Flooring [Answered!!]
Not only are the advantages of vinyl flooring such as its durability, affordability, practicality, and hygienic qualities that make it so appealing for private residences, commercial and industrial buildings, but the ease with which the vinyl sheets can be laid can also be considered as a significant advantage of PVC flooring.
However, once you reach the edge of the base of the wall or the furniture cut, it is frequently required to cut the vinyl floor in order for it to be effectively adapted to the spatial requirements.
Learn how to cut vinyl flooring quickly and precisely, as well as the best method for cutting vinyl floor tiles or sheets, in this article.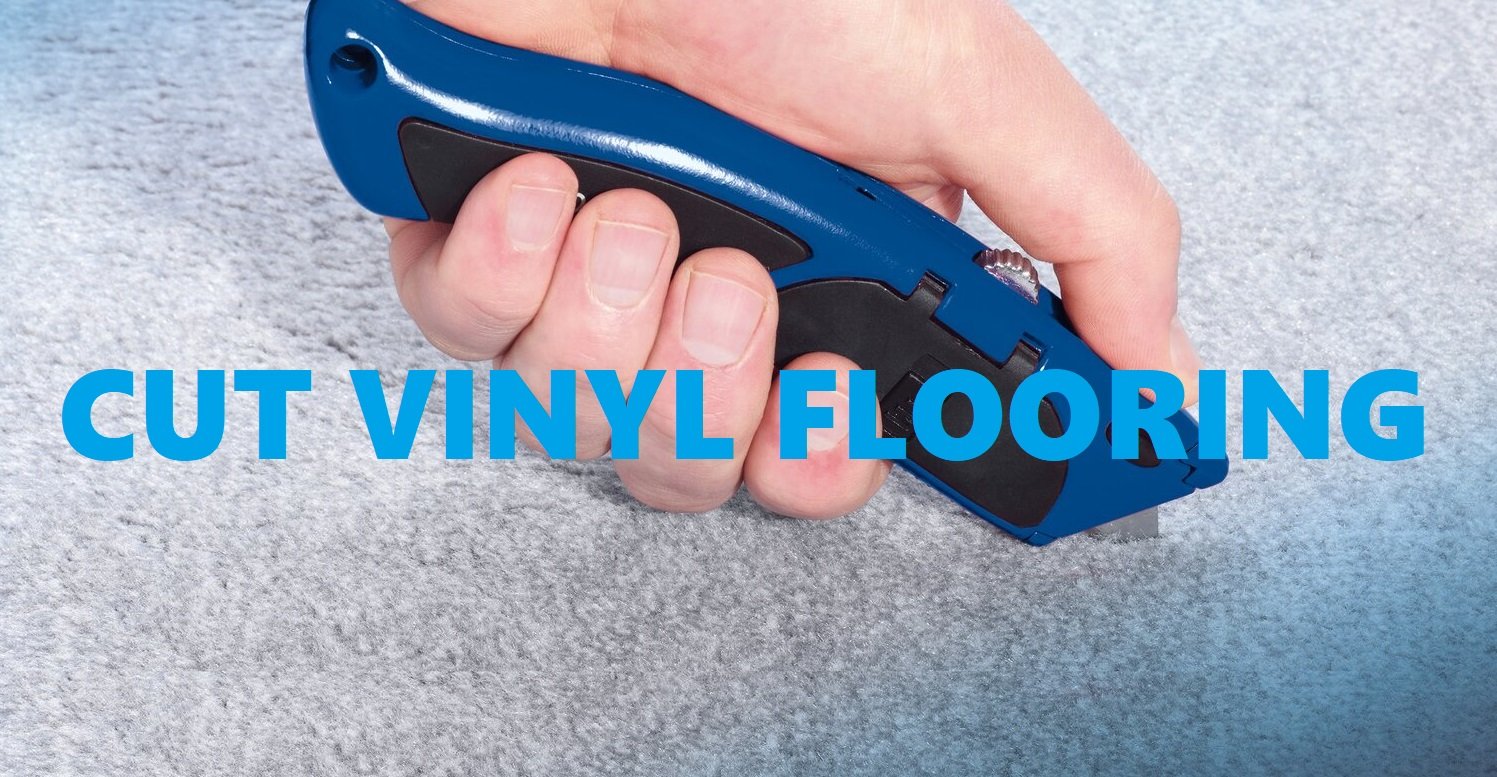 See Also:
How Long Does it Take To Install Laminate Flooring
How to Cut Vinyl Plank Flooring
In most cases, vinyl plank flooring is delivered in pre-cut portions, but you will almost certainly need to cut some of it yourself in order to fit it to the exact dimensions of your room.
In general, there are two fundamental approaches, and you'll choose which method to use dependent on what section of the vinyl plank you want to cut out of it.
When it comes to smaller parts, scoring and snapping is the preferable way, however, a jigsaw will come in helpful when it comes to cutting lengthwise sections.
What Is the Best Way to Cut Vinyl PVC Flooring?
The majority of vinyl floors may be cut with little effort – even without the use of specialized tools.
We can work with any type of PVC tile or vinyl floor sheet, whether it is a heterogeneous PVC tile or homogeneous vinyl floor sheet with a relatively thin material thickness between 2 mm and 5 mm, or a click vinyl floor plank on HDF supports with an approximate thickness of 6 mm to 10 mm.
In order to cut vinyl plank flooring, what is the best blade to use?
If you're using a miter saw, the blade will be shaped like a round disc for cutting.
To achieve smooth, fine cuts, use a saw with between 80 and 100 teeth on each side.
Because they use a cutting blade that is comparable to that of a miter saw, circular saws can achieve the same type of cut as a miter saw.
This DeWalt blade with a high tooth count makes smooth cuts and slips through vinyl rapidly, preventing the vinyl from melting.
Jigsaws have a vertical blade that makes it easier to work with curves and rounded shapes in the material than other types of tools.
These Bosch jigsaw blades are suitable for cutting both straight and curved lines with ease. They're also quite reasonably priced.
Is it possible to Cut Vinyl Plank Flooring with an Ordinary Utility Knife?
The most typical way of cutting vinyl plank flooring, particularly for cross-cuts, is to use a utility knife.
Basically, all you have to do is "score & snap" to complete the task.
Instead of a conventional box cutter, you'll need a carpentry or carpenter's square, as well as a heavy-duty utility knife like this one, which is available on Amazon (and comes with extra blades).
1. Draw a line across the plank to indicate where you want to cut.
Step 2: Position your square above the line
3. Using the utility knife, make deep cuts along the line.
4. To snap the plank, bend it back along the cutting line until it snaps.
Purchase a few spare blades to ensure that you always have a sharp blade in your knife.
Scoring will be simpler, and you won't have to exert as much pressure as you would otherwise, which could result in damage if your knife accidentally slips.
What Is the Best Way to Cut Vinyl PVC Flooring?
Vinyl Floor Rolls that have been cut (PVC Sheets)
A basic, sharp cutter knife, a pen, and a cutting rail or angle are all that are required to cut a vinyl floor from a vinyl sheet of vinyl flooring material.
You may do this by simply marking the cut edge with a pen and then using a cutter to cut through the vinyl floor surface.
The rail guarantees that both the marking and the cut are straight and made at the proper angle when using a laser cutter.
In most cases, one cut is sufficient to precisely cut the vinyl floor when the material thickness is accordingly modest and there is minimal effort applied.
Vinyl Floor Tiles with a Clicking Sound (PVC Planks)
Using a commercially available cutter or carpet knife, click vinyl floors of any type, including those with HDF core boards or cork, may be cut to size in record time and with pinpoint accuracy.
An angle or rail is used to mark the interface between the vinyl floor and the pen after it has been marked with a pen and the interface has been scratched with the knife.
By pressing the ends of the vinyl floor tiles down, ideally on the table edge or above the knee, the click vinyl is broken at the predefined breaking point, resulting in a clean edge on the floor tile surface.
When working with short edge pieces that are no longer easily broken by hand, it is beneficial to bend the short side with pliers.
How to Cut Vinyl Flooring
When compared to natural materials such as wood or even metal, vinyl cuts differently.
Using the proper blade can assist to make a clean-cut, but it's also crucial to go slowly when working with plastic flooring of any kind to avoid burning boards or chipped edges.
How to Cut Vinyl Flooring to the Appropriate Size
When laying vinyl flooring, the most typical cut you'll have to make is to cut the boards to the appropriate length.
Each run will necessitate the cutting of a board in such a way that the joints are staggered.
While this is the simplest cut, it is also the one that you will be performing the most frequently.
Make a mark on the board using the tape measure to indicate where the cut will be made.
Whenever possible, use the backside of the vinyl plank flooring to prevent pencil markings and the possibility of harm to the flooring.
The wear layer is also protected from damage caused by miter or table saws as a result of this.
Make a mark across the back of the board with the speed square to indicate where the cut line will be.
When using circular saws, the material will need to be fastened to your workstation or sawhorses before cutting begins.
Always remember to proceed slowly, take your time, and follow the line, no matter whatever saw you are working with.
If you repeat this process for each board and use a sharp blade, you will always achieve a clean cut every single time.
Vinyl flooring is Cut to the Desired Width
When you need to cut a piece of vinyl plank to a specific width, things can rapidly become tricky.
Because you cannot make this cut with a compound miter saw or a handsaw, you will need to use a circular saw or a table saw to do this type of cut instead.
Make a mark on the back of the board in the same manner as you would for any other cut, but pay special attention to the board's edge.
Make certain that the edge that runs up against the wall is the cut side; otherwise, you will only be adding to the waste pile by cutting the edge.
Make a mark on each end of the board with the tape measure to indicate where the cut will be made.
Take the chalk line and tie it to one end of the board with the clip, then carefully pull it across the plank until it reaches the opposite cut mark.
Pull the rope taut, and then have an aide "pop" the line to complete the process.
It may also be possible to use a straight edge on the board, depending on its length.
A table saw makes it extremely simple to cut vinyl flooring to size because you'll be using a guide or rip fence to guide the blade through the material.
Circular saws present a more difficult situation since you must ensure that the stock is maintained firmly in position throughout the whole cutting process.
Using vinyl flooring to Cut Around Pipes and Corners is a Common Practice
It will be necessary to make a few unusual cuts if you are installing vinyl flooring in a room that has plumbing or that has a rounded corner.
While you must still allow for contraction and expansion, the idea is to make the cut as near to the edge as feasible while maintaining a clean appearance.
Although marking the board properly is often the most difficult portion, the oscillating multi-tool or jigsaw can assist with this process.
There are a variety of approaches you can take here as well, based on the location of the pipes and the distance between them and any walls.
Simply double-check your measurements before proceeding with the cut, and don't be afraid to use a template for radial cuts.
If the boards and pipes are really near to one another, some flooring installers will "notch" a cut where the pipe should be, which, while it works, is not particularly neat and professional-looking.
Another alternative is to use a hole saw that is designed for vinyl flooring; however, jigsaws and oscillating tools are preferable because they may be used in entrances as well.
Peel and Stick Vinyl Plank Flooring is being cut to size
While a powered saw or flooring cutter is perfect for thick luxury vinyl or EVP flooring, they are overkill for thin vinyl planks or peel and stick flooring.
All you need is a high-quality razor knife and a little elbow grease to complete this project.
While traditional utility knives will do the job, modern ones such as this one from Klein make changing blades a breeze.
Using a utility knife, you can easily cut peel and stick vinyl plank flooring or tiles.
All you have to do is measure, mark, and cut the section you want.
For as long as the blade is razor-sharp, you should be able to get a nicely smooth edge.
Just remember to take your time and use the square as a guide, and to place something beneath the section of flooring you wish to cut to prevent it from moving.
Depending on the thickness of the vinyl flooring, you may need to score and snap the planks together.
In order to get a clean break, the cut must be made on the side of the wear layer rather than on the backside.
Cutting through thinner vinyl flooring or peel and stick flooring with a razor knife and straight edge is possible for any form of cut, including rip style cuts and cuts around the plumbing pipes and ducts.
The Price of Vinyl Flooring Installation
Alternatively, if you are uncomfortable cutting up boxes of vinyl plank flooring or simply require the task to be completed fast, you may always employ a professional.
While this sort of flooring is rather straightforward to install for the majority of homeowners, the time it takes to move furniture, appliances, and temporarily reorganize any areas under restoration is a consideration, as is the cost of the flooring.
Vinyl plank flooring is normally installed at a rate per square foot, which is determined by the vinyl flooring installer.
This does not include the cost of the material itself or any preparation work that may be required with the subfloor.
On average, we discovered that most homeowners in the United States spend between $1.75 and $3.00 per square foot for LVP, LVT, and vinyl plank flooring installation in general.
Comparing standard vinyl plank flooring, LVP, and engineered vinyl, we discovered that sheet vinyl goods, along with glue-down variations, are significantly more expensive than these alternatives.
If you're interested in having a flooring professional in your area take a look at your job, our quote tool can assist you in getting the process underway.
More Professional Advice on Cutting Vinyl Flooring
First and foremost, make certain that your work area is safe before you begin cutting the vinyl sheet.
Make certain you wear gloves.
Pro-tip number one: Make use of a knife with a concave edge.
Also, make sure it's razor-sharp.
It will assist you in completing your work more quickly.
It is best not to use a typical sharp knife.
They are often considered to be less practical and riskier.
The same can be said about a knife that isn't completely razor-sharp.
When working with irons, avoid using a saw.
Keep in mind that when cutting with your iron, the ornamented portion of the iron should always be facing up.
Mark the cut line with a pencil at the location of the measurement point. Iron your clothes and divide the iron in half with the ornamented part facing away from your body, applying a hard cut to the iron.
Pro-tip number two: While splitting the iron, use a board to steady one end while splitting the other end.
Alternatively, if you simply require a little edge to be cut, we recommend that you use pliers (or a comparable tool) as an alternative.
Precaution number three: Always make certain that your knife is positioned in the most straight posture possible before beginning your incision.
Having enough space around the perimeter will ensure that you have room for future growth.
Creating a unique shape for your plates shouldn't be a difficult task for you to complete.
Remove the shape from the vinyl sheet by cutting it out with a sharp knife (make sure the cuts are snug).
Tips for cutting an iron: Place an additional iron that has been turned inside out underneath the iron you want to cut.
This way, you can prevent ruining the newly laid floor that you just finished.
If the little "insert," which is part of the click mechanism, comes loose while you are cutting or sawing, make sure to put it back in the proper position.
It is critical to ensure a solid click connection.
Our Final Thoughts
Cutting vinyl plank flooring is something that practically any homeowner can do if they have the proper tools and equipment.
Finding the proper type of vinyl flooring, on the other hand, might be more difficult, given the fact that there are tiles and planks available from dozens of manufacturers.
Whatever your needs, whether you are seeking the best vinyl flooring for your next project or simply want to learn more about the material itself, we can help you.
Frequently Ask Questions
In order to cut vinyl plank flooring, what is the best instrument to use?
Make use of a miter saw that can cut through a 9-inch wood in a single pass. Make certain that the blade you are using is appropriate for cutting plastic.
Vinyl planks can usually be cut with a utility knife, which is convenient. Once you've scored the wear-layer, you'll need to bend them till they break.
Is there a tool that can be used to cut vinyl flooring?
Goplus Vinyl Floor Cutter, Laminate Flooring Cutter for 8-inch and 12-inch Wide Floor, Hand Tool V-Support Wood Planks Heavy Duty Steel Quick Cut, 8-inch & 12-inch Wide Floor, Hand Tool V-Support Wood Planks Heavy Duty Steel Quick Cut
What do you use to cut through Lifeproof flooring?
It is possible that you will need to cut your plank to fit at the end of a row.
To cut a plank, start by scoring it with a straight edge and a utility knife, and then cut it with the knife.
Alternatively, a jigsaw, circular saw, or miter saw can be used. Planks should be tapped down with a soft-faced hammer to ensure that they are securely fastened.