How to Clean Vinyl Plank Flooring [Answered!!]
However, even while vinyl flooring can withstand a great deal of abuse, especially in high-traffic areas of a home, it still needs regular maintenance and cleaning to keep it looking its best.
Cleaning vinyl floors is simple if you follow these steps.
Spills should be cleaned up with simple water as soon as they occur to help prevent stains.
You'll need to clean your floor more thoroughly once a week, at the very least.
First, vacuum or dry mop the floor to remove any dust, hair, or grime that has accumulated.
When you're finished with the dry mop, you can go on to the wet mop and the cleaning solution.
Despite the availability of commercial vinyl floor cleaners, you may prepare a simple and efficient cleaning solution for vinyl floors by mixing apple cider vinegar with water.
The acidity of the vinegar eliminates filth without leaving a soapy film behind.
One cup of cider vinegar should be mixed with one gallon of boiling water.
Use a damp mop to apply the solution to the floor, rinsing the mop often with clean, hot water from another bucket or your sink between applications.
To give the water and vinegar mixture even more cleaning power, add a few drops of liquid dishwashing soap to the mixture.
Mop the floor with the soap combination first, and then with the water and vinegar mixture a second time to remove any remaining soap residue.
Other Related Articles:
How Long Does it Take To Install Laminate Flooring
How Much Laminate Flooring Do I Need
What is Vinyl Plank, and How Does it Work?
Vinyl plank flooring, also known as luxury vinyl tile or luxury vinyl plank, is the most recent and most popular iteration of vinyl flooring.
It is available in large tiles or planks that have increased density, rigidity, durability, and even more realistic design-imimicking than linoleum and older vinyl flooring types, and it is available in a variety of colors and patterns.
Vinyl plank flooring is incredibly simple to install, with each piece snapping and locking into place like a LEGO set as you go.
However, we are not here to study about history; rather, we are here to learn about how to clean and maintain vinyl plank flooring.
What should you Avoid doing when Installing Vinyl Plank Flooring?
Before you do anything to your floors other than vacuuming and sweeping, it's a good idea to check your floor warranty for floor specifications to make sure you don't void it by doing something that isn't allowed.
You'll be able to search up exactly what cleaning products your vinyl plank flooring manufacturer recommends using in order to get the most out of your vinyl plank flooring investment.
When cleaning vinyl plank flooring, there are certain things you should avoid doing:
It is best not to steam clean vinyl plank flooring.
Your LVP is constructed to be durable, and while the material is waterproof, it is not intended to tolerate steam exposure.
Don't apply vinyl wax to your car.
The vinyl plank flooring already has a layer of protective substance applied to it, and the moisture could erode away at the coating over time.
The usage of ammonia-based treatments can cause cracks in your floor.
Any abrasive cleaners should be avoided as they will leave a film on your flooring and cause them to appear dull.
Any excessively wet mop might have an adverse effect on the adhesive that holds the floor down.
Vinyl Plank Flooring Has a Variety of Advantages
Here are a few reasons why vinyl plank flooring may be a better choice for your home than other flooring options if you are having trouble deciding between hardwood, laminate, and vinyl plank.
Extremely long-lasting
Installing vinyl plank flooring has several advantages, one of which is that the planks are tough and, as a result, they are extremely durable, meaning that you won't have to worry about replacing your floors for the next couple of years.
Because of their excellent durability, they can be used in heavy-traffic areas such as corridors and living rooms without fear of damage.
It is possible to install it anywhere
However, while hardwood flooring is pricey and provides a refined finish to a home, there are some restrictions on where it can be installed.
Because of its durable properties, vinyl plank can be used in a variety of applications ranging from bedrooms to high-moisture areas such as kitchens and bathrooms.
This is due to the fact that vinyl can endure high levels of wetness without warping.
You must, however, ensure that spills are cleaned up as soon as they occur, particularly in kitchens, because this can stain the floors.
Simple to Clean and Keep up to Date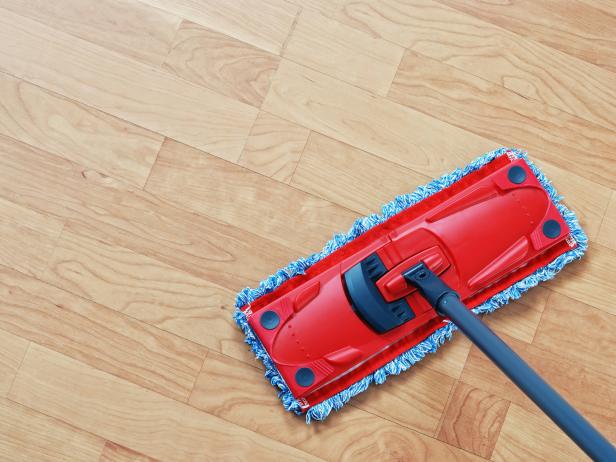 Vinyl plank flooring is easy to clean and maintain because it is made of vinyl.
Cleaning the floor on a daily basis, as well as once or twice a week, will help to keep it appearing clean.
When the flooring becomes dirty, all that is required is water and a microfiber mop, just as you would use a mop on laminate floors, and the fact that vinyl flooring does not require waxing makes the flooring incredibly easy to maintain over time.
Cleaning Vinyl Plank Flooring Requires the Use of Specific Tools
As previously said, vinyl plank flooring is by far the most convenient type of flooring to clean and maintain. When cleaning it, you'll need a few specific equipment, which include:
Broom
Any floor will eventually become dirty, and the worst thing you can do is to allow dirt to gather over time on the surface of the floor.
A broom can be used everyday to remove any surface dust that may have been dragged in from the outside if you have a vinyl plank floor.
Vacuum
A broom can only do so much when it comes to cleaning vinyl flooring, which is why it is recommended that you use a vacuum that removes dust and helps with allergy symptoms, or any specialist vacuum for carpets and rugs, at least once a week to keep your vinyl flooring clean.
You can use any strong vacuum for laminate flooring, or you can look into Shark vacuums for deep cleaning that has been reviewed online to make the best-informed decision.
A vacuum can remove any dirt that may have been missed by the broom, and the good news about using a vacuum is that it can remove dirt that has become stuck within the grout, which over time may cause your floors to appear dingy and unkempt, just like when vacuuming hardwood floors in every room of the house.
Microfiber Cleaning Cloth
At the end of the day, your floors require a deep cleaning every now and then that a vacuum or a broom simply cannot provide.
When it comes to vinyl flooring, a microfiber mop and some water will suffice.
Why a microfiber mop rather than a standard one is necessary is because vinyl plank flooring is not completely scratch-resistant, and the last thing you want is to have a floor that is heavily scratched and difficult to clean.
Tips for Cleaning and Maintaining Vinyl Floors
If you have a vinyl floor, avoid using paste wax polishes.
They'll leave a film on the floor that will accumulate over time as a result of the friction.
There is a low-cost and simple method of enhancing the luster of your floor: To make the vinegar and water cleaning solution that we discussed previously, add a few drops of baby oil.
When thinking about how to clean vinyl flooring, don't forget about preventative maintenance.
Maintaining the finish of any floor is difficult due to dirt and dust, so place doormats in front of exterior doors to prevent dirt and dust out of the house.
Knowing how to properly clean vinyl flooring helps ensure that it looks beautiful and lasts for many years.
1. Mop and vacuum vinyl floors to keep them looking good
As far as mops and vacuums are concerned, you should be using one on a daily basis to keep your vinyl plank flooring in good condition.
When you use a product on a regular basis, it needs to be of high quality.
If you prefer the old-fashioned way of doing things and find sweeping to be soothing, the Spot Less Flat Floor Mop will collect any dust and hair that may be on your floor.
Our experts determined that it is the finest mop for vinyl floors because of its dual chamber, which allows it to be used as a dry or wet mop depending on the situation.
Aside from that, it also includes five cleaning pads!
We recommend the Shark Navigator as the finest vacuum for vinyl plank floors if the hum of a vacuum is music to your ears.
It has a powerful suction and is quiet.
If you have dogs or cats, invest in a high-quality vacuum designed specifically for dealing with pet hair; you will not be disappointed.
2. Scrub to get rid of Stains
With a soft nylon brush, you can loosen and remove stains that are either new or stubbornly old without damaging your floor.
Scrub carefully with a brush after dipping it in a homemade baking soda and water mixture.
If it doesn't work, you can try isopropyl alcohol or hydrogen peroxide to get the stain to come off.
3. Use a wet mop to clean up filth
One of the most effective vinyl plank flooring cleaners is a solution made from a cup of apple cider vinegar or white vinegar and a gallon of boiling water.
Mop your vinyl plank flooring in the direction of the boards, dampening your mop in the process. It will remove filth, grime, and stains without leaving streaks or a sudsy mess in its wake, thanks to the vinegar.
How to Make Vinyl Plank Floors look as Good as New
Cleaning and maintaining your vinyl floor is a pretty straightforward process.
You can make one of the following remedies to assist in bringing your floor back to life.
Make a solution of one part rubbing alcohol (70 percent or 91 percent) and four parts distilled water to help remove hard water stains and streaks off surfaces.
Combine 50 grams of baking soda with warm water, stir well, and use immediately.
Combine one gallon of hot water with one cup of apple cider vinegar and a few drops of baby oil to make a cleaning solution.
Vinyl plank floors are vulnerable to ultraviolet rays and harsh chemicals, and exposure to them can cause the floors to become dull in appearance.
It is critical to keep your floors clean and protected to the greatest extent feasible.
Remove stains from vinyl floors in the following ways:
In order to avoid a stain, the most important thing you can do is to clean it up as quickly as possible when it occurs.
It is equally crucial to use a suitable sort of cleaning solution for the type of stain that you are dealing with when cleaning.
Wine, ketchup, and sauce stains can be removed with a baking soda and water solution.
Cleaning up pen and marker ink or beauty product ink with rubbing alcohol and distilled water solution is simple.
Using a cotton ball or soft cloth, apply nail paint remover to your nails and let them dry.
If you have a particularly stubborn stain, you may want to consider using bleach as a final option.
Remember that this could cause damage to your floor, so proceed with caution.
Other methods of preventing luxury vinyl planks from becoming damaged include the following:
Install protective feet on all of the furniture in the house since heavyweight equipment such as a table or refrigerator might dent the vinyl plank flooring. Surface protectors should be installed on your gadgets to avoid this from happening.
Rolling casters are yet another major source of vinyl scratching and ripping in the home. Instead of attempting to prevent this from happening to your vinyl plank floor, we propose that you install chairs with wheels that have a felt tip on them.
Are you relocating to a property that has vinyl flooring installed? Place your heavy appliances on a path of plywood to prevent them from being dragged into their final location. You will be able to carry these goods across the plank floor rather than having to pull them along.
The following are some strategies you can employ to reduce the frequency with which you need to clean your vinyl floors.
By maintaining the condition of your flooring, you will avoid having a damaged surface on which you have spent a significant amount of money to install in your home.
Our Final Thoughts
A vinyl floor is one of the most beautiful things you can have in your home.
Every room in the house benefits from having a well-designed floor, especially the bathroom or restroom and the kitchen.
As a result, it is critical to understand how to properly maintain a luxury vinyl plank floor in order to keep its appearance for many years to come.
Remember to have these useful hints close at hand, and you'll always be prepared to clean your floors and keep them looking wonderful!
Frequently Ask Questions
What should you avoid doing when installing vinyl plank flooring?
Detergents, abrasive cleansers, and "mop and shine" products should not be used on the floor since they might leave a dull layer on the surface.
It is not recommended to use paste wax or solvent-based polishes.
Ammonia and ammonia-based cleaning solutions should not be used on vinyl flooring due to the fact that they might degrade the substance and cause fractures in the surface.
When it comes to vinyl plank flooring, can you use a Swiffer?
Yes, you can clean your luxury vinyl flooring with a Swiffer wet jet provided you have it installed.
LVP sensitive surfaces will not be damaged by Swiffer Stick mops, spray mops, or vacuum cleaners because they are non-abrasive and will not scratch them.
The Swiffer wetjet is a very powerful cleaner for removing old stains from hard surfaces.
What is the best way to clean vinyl plank flooring with a steam mop?
The use of steam to deep clean carpets and upholstery is recommended, but it is not the ideal option for vinyl floors.
Steam can cause damage to the glue on some vinyl flooring and can seep between seams on floors that have been improperly laid, resulting in moisture damage.