How Long Does it Take To Install Laminate Flooring [Truth Revealed]
In many ways, a laminate floor is a good alternative to hardwood floors in terms of appearance.
Installing a single hardwood floor takes a significant amount of work and effort.
In this aspect, laminate flooring requires significantly less time, patience, and effort than other types of flooring.
However, many people are concerned about the possibility of a time constraint.
In the event that you intend to move for the installation on your own, this is an extremely significant consideration.
The total efficiency of the installation is mainly dependent on the amount of time you have available and your patience.
For example, you may complete your project more quickly if you use the best laminate flooring cutter.
That's when you'll need to know how long it takes to install laminate flooring, so you can plan accordingly.
It will assist you in managing your limited job-related time effectively.
We have covered the fundamentals of installing laminate flooring in your room right here.
After reading the article, you should be able to readily determine a probable time range.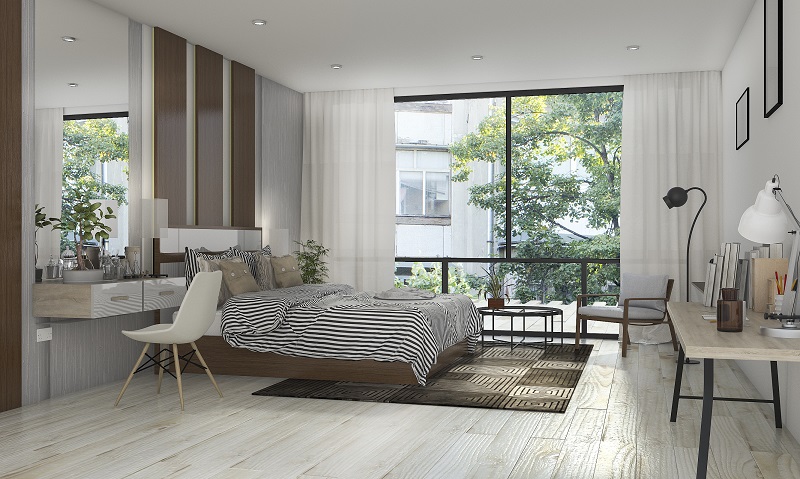 Common Mistakes When Laying Laminate Flooring
Preparation
Allow yourself three days after unpacking the flooring and before laying it to allow it to adapt to the installation location before you begin working.
This acclimation is required in order to prevent the moisture-sensitive particleboard core of the boards from expanding.
Prepare the floor during this time by leveling any uneven portions, undercutting the doorjambs, removing any old baseboards, carefully cleaning the flooring, and installing a vapor barrier where necessary.
Allow the Laminate Flooring to become Acclimated
It's important to allow your new flooring time to adjust to its new surroundings after purchasing it from a big box home store and bringing it home.
It will be in this setting for decades, so give it some time to rest and get used to it.
Despite the fact that they may have lived in the same city as you and in the same weather conditions, it does not follow that they are adapted to the biome in which you live.
If the planks are not allowed to acclimate to the exact temperature and humidity of the living space in which they will be installed, this could result in buckling and separating of the individual planks as they shrink and swell in response to the changes in temperature and humidity.
Laminated wood and other natural materials are used in its construction, and they are susceptible to damage from even the smallest variations in climate.
Unlike a cement floor, which is generally cold and humid, warehouses are frequently dry and warm.
For the greatest results, you'll want to let the laminate flooring acclimatize for at least 48 hours and up to 72 hours before installing it.
In addition, the laminate flooring manufacturer will have recommendations for how long its materials should be allowed to sit in the space before being installed.
Installation Instructions for Laminate Flooring
Professionals Make Use of the Following Tools and Supplies:
Along with the basic hand tools that most DIYers already have, here's a list of the numerous tools required for installation, which includes:
POWER TOOLS: Circular or table saw, compound miter saw, jigsaw, and other similar tools
Tools for installation include a hammer, a tapping bar, a pull bar, and a heavy roller.
Underlayment (foam or acoustic), expansion spacers, and other materials
Renovating and preparing the existing floor
You'll need to take out any current laminate flooring, baseboards, shoe molding, floor heating registers, and anything else that's fastened to the floor before you can install new flooring.
The old flooring, including tack strips and padding staples, must be removed before installing the new flooring.
A flat shovel is an excellent tool for removing staples, glue, and other detritus from a work surface.
If the subflooring is in good shape, look for ridges and smooth them out with a sander.
If it is in poor shape, it may be necessary to remove it and replace it with something else.
You may need to remove and repair the subfloor before you can begin installing laminate flooring if the condition of the subfloor is poor.
If any of the following conditions exist in a wood subfloor, it is not suitable for laying laminate flooring:
It has a twisted appearance.
It reveals a substantial amount of mold.
It is on its way to collapse.
It has an infestation of insects.
It has an odor due to pet stains.
If the subfloor is concrete, the surface must be leveled before installation can begin.
Chips and cracks in the concrete should be repaired and filled.
Use a level to assess where it has settled and where a self-leveling mix will need to be applied to raise it back up.
Guide In Installing Laminating Flooring
Prepare the installation site for DIY laminate flooring by making sure it is totally dry and that all ventilation systems, such as air conditioning and a heater, are in proper working order before beginning the process.
Cover the entryways and vents to prevent dust and debris from entering the area while the installation is being completed.
Some existing floors can be covered with laminate flooring, but if the floor is currently carpeted, you'll need to prepare the surface beforehand.
You'll need to remove the carpeting as well as any staples, nails, adhesive, and other debris from any type of old flooring before you can install the new floor covering.
If you don't do these preparation chores ahead of time, they will add to the overall installation duration.
Additionally, if the baseboard is in good condition and easy to remove, or if you intend to replace it with new trim, it is recommended that you remove it.
Allow enough time for the baseboard to be removed before beginning the installation.
You'll also want to undercut the door frame to match the height of the new flooring so that it can be tucked underneath the new flooring.
Making as much of this preparation work as possible ahead of time will make the actual plank installation go much more quickly.
How Long Does it Take to Install Laminate Flooring
In all, it is possible that it will take:
Each task takes a significantly different amount of time to perform than the other.
It takes into consideration the amount of space desired, operating efficiency, and room size.
It is recommended that you spend at least 2 – 3 days getting used to the new environment.
The actual flooring process takes 3 – 4 hours for the majority of do-it-yourself homeowners.
As a first-time installation, you may require a few more materials.
With the doorway and cabinet spaces, it is likely that another 1 – 2 hours of work will be required.
Consider a 10′ x 20′ room size as a starting point for your calculations.
It is possible that the whole installation will take 4–5 days.
Each additional room will incur an additional fee of one day per room.
Verdict:
Knowing how long it takes to install a laminate floor will allow you to estimate the time required on your own, saving you money.
It does not imply that you will be subjected to highly arduous and time-consuming tasks.
It is not necessary to spend any more money on the installation of the laminate flooring.
The importance of meticulous layout and precise computation cannot be overstated.
Our Final Thoughts
The answer to this question is clearly dependent on the size and scope of your project, as well as the speed with which you do it.
Most jobs, on the other hand, maybe completed in a weekend if you plan ahead of time. Participate with your entire family to dramatically accelerate the process.
Frequently Ask Questions
How soon after installing laminate flooring can you walk on it?
wait for the floor to dry before moving on
Before you start using your new floor or moving into the space, check to see that the floor has been totally dried out.
For the first 24 hours following installation, do not walk on the floor.
If you do, it will cause damage to the installation, which will result in an uneven floor surface.
Installing 500 square feet of laminate flooring takes approximately how long?
Because of time restrictions, laminate flooring systems can also be used as an alternative to solid wood flooring systems in some cases.
Installing laminate flooring in a room that is approximately 500 square feet in size can be accomplished in a single day.
Is it possible for a novice to install laminate flooring?
Learning how to lay laminate flooring is an excellent job for do-it-yourselfers since it can instantly improve the appearance of your home.
You can easily install DIY laminate flooring in practically any room of your home, including kitchens, because they do not require glue or cement and do not require grout or mortar to adhere to the subfloor.