What is Laminate Flooring Made Of [Answered]
Laminate floors, which were once primarily used as a type of economic flooring, have maintained their position as a cost-effective and functional flooring option.
They have, however, made their way into higher-end homes, where they would previously have installed nothing but real hardwood or engineered wood flooring.
It has never been easier to maintain laminate flooring or to make them appear and function better than they do now!
With all of this popularity, it's natural to wonder: what exactly are laminate floors in the first place?
After Reading Article, Following Questions, Will Be Answered
What is laminate flooring made of and how does it work?
What is the structure's design?
What is the durability of the product?
When it comes to laminate, we are frequently asked these types of questions, and we are here to lay the record straight on the subject.
When it comes to laminate flooring, it is a popular choice in the consumer market.
It is available in a variety of finishes ranging from wood to natural, allowing you to customize the look and feel of your room.
Entranceways, hallways, and living rooms benefit greatly from this product.
The Fundamentals of Laminate Flooring
Floor coverings made of particleboard wood are known as the laminate flooring.
They have a particleboard wood foundation that is topped with an image layer and a clear wear layer.
Living rooms, kitchens, dining rooms, bedrooms, hallways, and other sections of the home that are not subjected to severe dampness are among the most common places to install laminate floors.
Advantages and disadvantages
Pros
Cleaning is simple.
Scratch-resistant
Excellent for families with pets and children.
In comparison to other forms of floor coverings, it is quite inexpensive.
Cons
Moisture has the potential to expand the laminate floor base.
Chips quickly and easily
Bathrooms and laundry rooms are not suitable for this product.
Is Laminate Flooring Made of Plastic or Hardwood?
To the dismay of some, laminate flooring is not comprised entirely of plastic, as is commonly believed.
Due to the fact that beauty and design were compromised in order to make laminate more affordable in the beginning, it appeared as if it were made of plastic.
Now, thanks to advances in manufacturing technology, laminate can be made to appear as if it is genuine hardwood or stone while being far more affordable.
When it comes to laminate flooring, what exactly is it and how does it get made?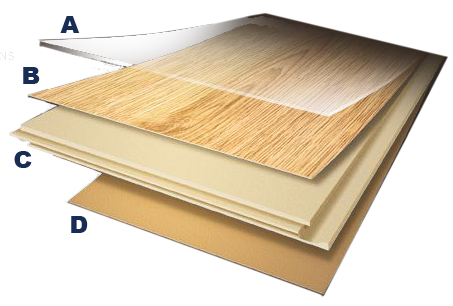 Direct-pressure laminate (DPL) fabrication is a remarkable manufacturing technology in which four layers are fused together in a single press operation at high temperatures exceeding 300 degrees Fahrenheit.
In the creation of residential laminate flooring, DPL is the most often encountered fusing procedure.
Let's go over each of the four layers one by one…
LAYER D: Backer Paper
Every Laminate flooring plank has a bottom balancing layer at the bottom that helps to keep the board straight when installed.
The backer is responsible for sealing the back of the laminate board to ensure that its dimensional stability is not damaged in any manner, such as by water.
Because some laminate planks are pre-padded with foam, they don't require any additional underlayment.
Underlayment or padding improves the acoustical quality of the flooring when people walk on them.
Layer C: HDF core or board
Laminate flooring has a high-density fiberboard core as its primary structural component (HDF).
Another type of particleboard is medium-density fiberboard (MDF), which Swiss Krono does not employ in the manufacture of its laminate flooring planks.
In the same way, as HDF and MDF are manufactured from softwood fibers that have been broken down and mixed with a wax and a resin binder, they are also molded into panels by the use of high temperatures and pressure.
However, when it comes to the creation of laminate flooring, HDF outperforms MDF in terms of stability and strength, resulting in a more durable flooring.
A high-density fiberboard core will be machined to absolute, micron-precise tolerances during the manufacturing process.
For a snug, dependable fit together, the edges of each plank will be cut to specified profiles so that they may be simply and consistently fitted together according to one of four locking mechanisms that will be used.
With HDF as the core material, it is possible to achieve the exceptional micron-milling precision required for these locking systems panel designs.
Layer B: Decorative paper
Then there's the layer of décor or decorative-paper embellishment.
The decorative paper is a high-quality printed design that provides the laminate plank its particular appearance and makes it stand out from the competition.
An accurate copy of wood, stone, or marble in a variety of colors and patterns, as well as nontraditional designs like leaves or grass, artwork, or paint splatters, can be used to create that look.
Layer A: Wear or overlay layer
The wear layer, also known as the overlay layer, is the topmost laminate flooring layer.
Aside from providing a beautiful finish to each board, it performs a number of critical activities that contribute to the floor's long-term resilience, including:
This layer seals and protects the surface of the laminate floor from the effects of ordinary wear and accidents, such as scuffs, scrapes, and scratches produced by pet claws, shoes, children's toys, furniture legs, vacuum cleaners, and other household items such as vacuum cleaners.
Protection from damaging UV rays that could fade the color of the ornamental paper layer is provided.
The majority of individuals prefer large, open windows.
The problem is that if such windows are located in the south or southwest corner of the room, continuous exposure to sunlight can expose the floor to a significant amount of UV radiation.
UV radiation can actually cause photodegradation (fading), which is the breakdown of the chemical links that hold colors together.
To put it another way, without sufficient Wear Layer protection, the color becomes "bleached" over time due to exposure to sunlight.
In the wear layer, you'll see a variety of finishes (ranging from nearly matte to high-gloss), which vary based on the intended kind of flooring.
As you can see, there is a lot that goes into the laminate flooring to make it such a desirable floor in terms of wear and price, as well as aesthetics and durability.
What is the lifespan of laminate flooring?
Laminate wood flooring is extremely long-lasting.
Its high-density core board provides excellent impact resistance and can endure the weight of heavy furniture without bending or denting.
Laminate's top layer provides scratch and fades resistance, making it an excellent choice for high-traffic areas and households with pets.
Laminate is water-resistant but not waterproof, so it is not recommended for outdoor use.
It is rare for spills to cause problems when they are cleaned up immediately after occurring.
Water damage to your laminate floors, on the other hand, will occur if water seeps between the seams and penetrates the lower layers of the floorboards.
It is possible to eliminate the possibility of this occurring by treating the joints with a silicon therapy.
When putting laminate floors in the kitchen, it is highly advised that you do so.
In the bathroom and laundry area, laminate flooring is not advised.
Is laminate flooring suitable for children? Is laminate flooring suitable for use with pets?
Absolutely.
Your dog rushes around the corner at the slightest crinkle of a food wrapper, or does he ignore it entirely?
Do your children have a proclivity for unplanned juice spills and glitter explosions?
Laminate is available to you.
We adore our children and pets… but not all types of flooring share this sentiment.
When picking which floors to install in your home, you'll want to consider how well they'll function for all of the people who will be living there.
You'll like laminate flooring's great resilience and easy-to-maintain surface, which is perfect for new pups or slightly older children.
The scratch-resistance of laminate flooring surpasses that of even the best wood flooring for dogs.
However, keep in mind that more durable flooring are typically harder floors, and laminate is no exception to this.
Is your pet a little child who is just learning to walk or an elderly dog who might benefit from walking on a softer surface?
For example, you might want to look into the best cork flooring options available, or even the peel-and-stick carpet tiles available from Home Depot by the crate.
Is laminate flooring resistant to water?
Yes, as we described a little earlier, laminate can be used as a water-resistant flooring surface.
However, it is entirely dependent on the type of product you purchase!
Even plain ol' laminate can withstand water in the same manner as engineered wood can withstand water.
You won't have any problems if you clean up liquids as soon as possible.
This is due to the fact that laminate's wear layer is both sturdy and water-resistantthe , making it ideal for the occasional little spill or a pair of dripping rain boots.
Alternatively, if water leaks between the planks and are absorbed into the core layer, swelling and warping are both conceivable outcomes.
Once again, if you get a specific waterproof laminate product such as Revwood, this will not be an issue.
Methodology of Installation
Floating laminate floors are the only type of laminate flooring that may be laid.
The floorboards are connected to one another but not to the subfloor using this form of construction.
Because laminate floors use a modified tongue-and-groove system of attaching boards, they are installed in a manner similar to real hardwood flooring.
However, in contrast to hardwood flooring, which is normally installed by a professional, laminate flooring is extremely simple to install with only a few basic tools by the do-it-yourself enthusiast.
Laminate is always laid as a floating floor, regardless of the manufacturer.
Because it is not made of hardwood or engineered wood, it does not provide the same installation challenges as hardwood or engineered wood.
With the floating floor approach, you first put out a low-cost foam underlayment, then tape the underlayment together before laying out the laminate boards on top of the underlayment.
Because the planks are connected together from one piece to the next piece to form a single, extremely hefty unit, it is unable to move about at all.
Laminate flooring boards are either snapped together or glued together, depending on the type of laminate flooring you purchase.
The snap-together method that is most widely utilized is referred to by several names, including fold-and-lay and fold-and-lock.
While tongue and groove joinery, which is common in the woodworking industry and involves sliding one board laterally into the adjoining board, fold and lay begin with the two boards joined by outside grooves and oriented to one another.
Afterward, one board is folded down until it is the same thickness as the companion board.
With this folding mechanism, the two boards are brought imperceptibly closer together, reinforcing the bond and preventing water from leaking through.
Subflooring and underlayment are two terms that are used to refer to the same thing
Laminate floors, like all floor coverings, require a sturdy, firm subfloor to function properly.
Underlayment is a layer of foam or felt that is placed between the subfloor and the laminate, separating the two surfaces and producing a softer footfall.
In rare cases, where the flooring is inadequate, an intervening underlayment of thin plywood may be added above the subfloor and below the foam underlayment to provide additional support and protection.
Installing laminate over flooring that isn't level may result in ugly gaps between boards, so you'll want to check that the subfloor is level before proceeding with the installation.
Our Final Thoughts
When compared attentively, the distinctions between hardwood and laminate flooring are extremely clear, despite the fact that they appear to be similar at first glance.
Despite the fact that both solid and engineered hardwood floors are readily available on the market, solid or engineered hardwood flooring is generally considered to be a wiser, healthier, and more ecologically conscious choice than laminate
There are several differences between solid, engineered, and laminate flooring.
The comparison table below provides a short overview of these differences.
Frequently Ask Questions
Is your laminate made of wood or plastic?
Laminate flooring is a synthetic flooring product that has many layers.
Its appearance is intended to be similar to that of genuine wood.
The core layer of laminate flooring is made mostly of melamine resin and fiber board material, which are both environmentally friendly.
The top layer features a textured picture that is embossed and intended to seem like real wood.
What are the disadvantages of laminate flooring?
The Not-So-Exciting News
It is not recommended to install laminate flooring in laundry rooms or rooms with sump pumps or floor drains since even the best laminate flooring is prone to moisture damage. Because laminate flooring cannot be restored in the same way that genuine wood can, once it has become old, it will need to be replaced.
Is it true that laminate flooring is made of wood?
There is no plywood and no natural genuine wood veneer on the top of the laminate.
Both engineered wood and laminate have a wood-based foundation that is built of manufactured wood.
Both products can have a striking resemblance in appearance, especially when using high-quality laminates.
Laminate flooring does not contain any natural stone products.