Where to Buy Hardwood Flooring [10 Places]
The selection of flooring is one of those extremely basic, but incredibly important, aspects of the construction and renovation of a house.
It's likely that you'll make this selection before anything else because it serves as the foundation for everything that follows.
And while there are a variety of options available, ranging from tile to carpet, we're here to discuss the gold standard in flooring: hardwood.
Following your decision to use wood, there are a variety of options available to you to consider.
Do you choose white oak or walnut, red oak or cherry as your wood?
A high-quality (and potentially pricey) reclaimed wood floor can be a good option.
Alternatively, perhaps you're more interested in a low-cost yet long-lasting laminate option?
Different types of hardwood flooring exist, and selecting the right product is more than just a matter of preference when it comes to color.
Oh, and there's some color, too! We've gathered all of the research to assist you from specialists, but for the time being, we wanted to provide you with a list of sources and inspiration to get your creative juices flowing.
Make certain that you complete your research on the varieties of flooring that would be the most appropriate for your needs before making a purchase.
For the time being, take a look around at the various alternatives and see what catches your eye.
See Also:
How to Clean Vinyl Plank Flooring
How to Lay Laminate Flooring in Multiple Rooms
How to Stagger Vinyl Plank Flooring?
But Before You Buy, There Are Several Things to Consider.
1. Engineered hardwood flooring versus solid hardwood flooring
If you want to buy solid hardwood flooring or engineered hardwood flooring, it all comes down to the room in which you want to put the floor.
It is recommended that engineered hardwood flooring be installed in spaces that are prone to dampness, such as the basement or kitchen.
Solid hardwood floors can be pre-finished numerous times, depending on their thickness, making them more durable than engineered hardwood floors in terms of wear resistance.
Solid Hardwood Flooring is a type of flooring that is made entirely of wood.
Solid hardwood floors are made out of planks or strips of wood that are joined together to form a single piece of wood.
Solid hardwood flooring is available in three varieties: strip hardwood flooring, plank hardwood flooring, and solid parquet hardwood flooring.
Strip hardwoods are narrow and usually less than 3 inches wide, making them ideal for furniture making.
Plank hardwoods are long and wide, often measuring more than 3 inches in width.
Decorative geometric patterns are also incorporated into the design of our parquet floors.
Strip hardwood floors are significantly less expensive than plank hardwood floors, but they are also less dense.
Floors with Engineered Hardwood (also known as Engineered Hardwood Flooring)
What is engineered hardwood flooring and how does it differ from solid hardwood flooring?
In order to achieve a smooth finish, engineered hardwood floors are constructed of many layers of wood, with hardwood on the top and plywood on the bottom.
Typically, the top layer is made entirely of hardwood, making it completely natural.
How often you can pre-finish an engineered hardwood floor will depend on the thickness of the floor, but it is normally 2-3 times per year.
Due to the fact that most engineered hardwood floors have a thin top hardwood layer, this is the case.
As a result, they cannot be pre-finished more than once, as solid hardwood floors may be.
2. Hardwood Flooring Types and Varieties
There are several different species of hardwood flooring available for both solid and engineered hardwood floors.
The trees are either native or foreign in origin. Oak, beech, and maple are examples of domestic woods found in the United States.
Brazilian cherry, kempas, and ipe are just a few examples of exotic tree species. The grains, hardness, and provenance of the woods are all different.
Depending on the hardness of the wood, you can select a certain species.
When comparing different hardwood species, the Janka hardness scale can be helpful.
The Janka wood hardness scale is used to determine the hardness of wood.
The woods on the Janka hardness scale are compared to red oak, which is considered to be the industry standard in the wood business.
Was it ever brought to your attention that a red oak wood floor can survive for 10 decades?
Rooms with a lot of activity and a lot of foot traffic demand the most durable hardwood floor species.
Hardwood flooring that is softer might be used in rooms or residences that do not see a lot of traffic or activity.
3. Pre-finished hardwood flooring versus unfinished hardwood flooring (Site Finish)
Pre-finished flooring is flooring that has been sanded, stained, and coated in the factory. After acquiring a pre-finished floor, the only thing left to do is to have it installed on the floor.
In order to take advantage of the convenience of quick installation, pre-finished hardwood floors should be considered.
In fact, you will be able to move in immediately following the installation.
Furthermore, pre-finished flooring is backed by a lifetime warranty from the manufacturer.
Unfinished hardwood floors are sanded, stained, and coated on the construction site after they have been installed.
In order to properly sand and prepare an unfinished hardwood floor for finishing, you will need to set aside several days.
You should allow enough time for the installation to be completed before moving into the premises.
What Are the Differences Between Pre-Finished and Unfinished Hardwood Floors?
Pre-finished flooring goes through a preservation process in the manufacturer before being installed.
Most producers will sand, stain, and cover it with polyurethane before shipping it out to customers. In addition, the boards may be baked in an oven, which results in a firm finish on the surface.
The disadvantage of pre-finished boards is that they come with beveled edges, which causes the floor to be uneven once it has been installed.
Site finished wood, on the other hand, does not have any lines between the boards, resulting in a floor that is flat and smooth.
With pre-finished flooring, there are also less messes to clean up and less exposure to chemicals.
Dust is produced during the sanding process. Following that, chemical application on the task site is required.
Additionally, untreated hardwood floors offer a more natural appearance than pre-finished hardwood floors.
When pre-finished woods are used, the grain patterns are less noticeable.
As a rule, it is less warm than untreated hardwood flooring.
It is also simpler to customize an unfinished hardwood floor and apply various stains to it than it is to finish it.
You can hire an expert to apply the color of your choosing.
When it comes to purchasing pre-finished hardwood flooring, you will have to make do with what is already on hand at the retailer.
Although purchasing pre-finished hardwood floors is more expensive than purchasing unfinished hardwood floors, the latter becomes more expensive when you factor in the costs of sanding, staining, and coating.
Accordingly, the total cost of prefinished hardwood floors is typically less than the total cost of untreated hardwood flooring.
Buying Hardwood Flooring Online Is Easy With These Great Websites
Although you want to find the most affordable wood flooring available, you don't necessarily need to look in your own vicinity.
It's possible that an online flooring business may provide you with everything you need to complete the project.
You'll have more options, and you can shop whenever you want without feeling obligated to make a purchase straight away.
Here is a list of excellent web resources.
1. Wayfair
Wayfair is one of the most rapidly expanding merchants in the home design industry.
Not only do they have a fantastic selection of hardwood flooring, but they also have a fantastic range of home design products (for example, area rugs, vanities, hardware, window treatments, cushions, and practically anything else).
They are also really reasonably priced.
Wayfair offers a variety of search options, including color, species, style, brand, and plank width, among others.
Cork and vent covers (which should not be overlooked) are also available in addition to hardwood.
2. Lumber Liquidators is a company that specializes in liquidating lumber.
In addition to having one of the largest inventories of pre-finished and unfinished hardwood floors in the area, this company carries solid and engineered hardwood, laminate and engineered hardwood flooring, bamboo, and cork hardwood flooring, vinyl and wood-look tile flooring, and a variety of other products such as butcher blocks and moldings as well as a variety of accessories and tools.
In addition, if you visit the site on a frequent basis, you may be able to find one-of-a-kind products for amazingly low costs.
The result may be an outlandishly colorful and glossy-finished alternative, but if that's what you're looking for, it'll be quite inexpensive.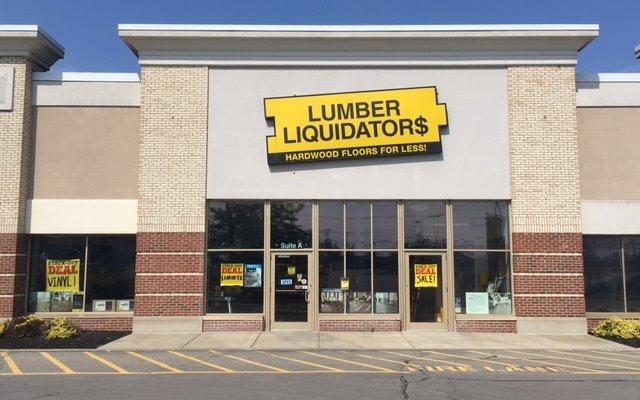 3. Bruce
Whenever you have a strong desire for some good old-fashioned oak flooring, Bruce is the spot to go-to look.
They offer a variety of finishes to choose from, though nothing too extensive or unusual.
This is the location to go if you want to search more efficiently.
4. Excess inventory
If you have ever purchased furniture, carpets, or bedding from Overstock.com, you may be surprised to learn that they also sell hardwood flooring.
Everything from Brazilian Teak Solid Hardwood Flooring to Antique Oak Engineered Hardwood Flooring can be found in our collection.
Some of their options are on sale, and others are available for free 2-day delivery in select areas.
5. ProSource
ProSource has been in business for nearly three decades.
They are a well-known wholesaler in the industry. They carry flooring from brands such as Armstrong, Shaw, and Mohawk, to mention a few.
It is possible to shop their website for all of the top hardwood brands, but you will need to have your contractor purchase the hardwood for you.
6. Hearne Hardwoods
The vision of this Pennsylvania-based corporation is its specialization.
They have more than 100 different species of domestic and exotic hardwood lumber in their inventory.
7. Vermont Plank Flooring
The wood used by this Vermont-based company for its wide-plank flooring originates from trees that have been sustainably harvested by hand.
It also offers engineered hardwood, antique wood, and pre-finished flooring alternatives that are custom-made to customers' specifications.
8. Carlisle Flooring & Carpeting
This 40-year-old company, which specializes in wide-plank flooring, factory-finishes its flooring in a manner similar to that of a site-finished floor.
Your floor will be created by skilled craftsmen in the company's New Hampshire facility, where you will have virtually endless design options.
9. Surfaces with a High Degree of Detail
Exquisite Surfaces is the place to go if you're looking for high-end European wood, stone, and terra-cotta flooring, as well as ornamental tiles, and a specialty in salvaged materials.
10. Paris Ceramics
In terms of flooring, Paris Ceramics is a significant resource for interior designers and architects.
The resources that are employed can be found all throughout Europe, as well as throughout the world.
Despite the company's name, it is a significant transporter of high-quality wood products.
Our Final Thoughts
I hope that you have chosen the place where you want to buy your hardwood flooring!
Frequently Ask Questions
What is the approximate cost of installing 1000 square feet of hardwood flooring?
The average cost to install hardwood flooring on 1,000 square feet ranges between $6,115 and $10,140, with the majority of homeowners spending an average of $8,127 for materials and expert installation.
What do you think a reasonable price for hardwood floors is?
The average cost of installing hardwood flooring is between $6 and $12 per square foot. Wood flooring materials typically cost between $3 and $7 per square foot, with labor costs ranging from $3 to $5 per square foot on average.
It is estimated that the cost of installing 1000 square feet of hardwood flooring will range between $6,000 and $12,000.
What is the approximate cost of installing 1200 square feet of hardwood flooring?
The average cost of installing hardwood flooring is between $6 and $12 per square foot. Wood flooring materials cost between $3 and $7 per square foot, and labor costs between $3 and $5 per square foot. Wood flooring installation costs between $3 and $5 per square foot.