What to Put Under Hardwood Flooring? [Answered]
If you're installing solid hardwood or engineered hardwood, preparation for the subfloor and underlayment will take longer than actually laying down the wood.
However, don't scrimp on quality at this stage if you want the finest outcomes.
Find an underlayment material that has the protective features you require at a price that you can live with.
What to Use as a Subfloor for Hardwood Flooring
If you decide to install your own hardwood or engineered hardwood floors, you will have a plethora of options to consider and decisions to reach.
One of these options is the type of underlayment that you will use in your home.
If this is your first foray into the realm of do-it-yourself flooring, it's possible that this is the first time you've ever heard of the term "underlayment."
Never be concerned! Knowing what it is, why you need it, and what options are available makes selecting the best flooring for your home or business a breeze.
This post will teach you about the numerous types of hardwood floor underlayment available.
What Is Underlayment and Why Do I Need It?
Underlayment, in its most basic definition, is a layer of material that sits between your subfloor and your floor.
While some flooring comes with the underlayment already attached, others will require you to install a separate underlayment on top of your existing flooring.
Underlayment is typically made of rubber, cork, foam, or felt, depending on the application.
Each choice has a unique set of characteristics that are tailored to the requirements of different levels and rooms.
Even though your underlayment will be unseen beneath your floor, selecting the proper type will improve the performance of your flooring and assist it to last longer than it otherwise would.
What is the purpose of underlayment?
Why do you need an underlayment if your subfloor already provides a smooth and level surface for installing hardwood flooring in the first place?
Because underlayment materials act as a critical moisture barrier, they prevent the wood from warping or suffering other types of water damage when condensation rises from the underfloor.
They also provide varying degrees of soundproofing, which prevents each step you take from reverberating throughout the house, as well as thermal insulation, which makes the floor more comfortable to walk on when wearing bare feet in the winter.
Finally, the use of underlayment ensures that the subfloor is actually flat and level.
So you won't have to worry about making the subfloor as smooth as glass in order to install excellent hardwood flooring.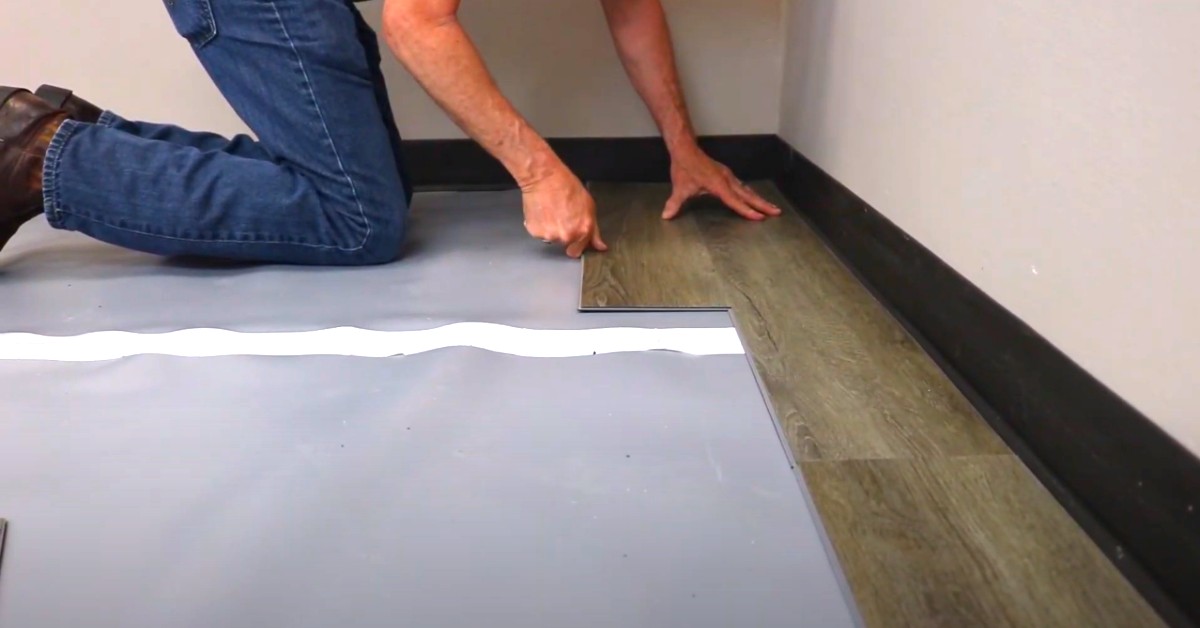 The following are the top five advantages of hardwood floor underlayment:
There are two reasons why understanding why you might benefit from underlayment is beneficial:
1. So that you can determine whether or not you want it in situations where it is not required.
2. So that you are aware of what you are paying for and what things to look for while shopping.
Alternatively, why it matters at all which underlayment you use.
Examine all of the advantages in further detail.
1. A moisture barrier is used.
Using underlayment to safeguard your hardwood floor from moisture damage is one of the most essential reasons you should do so.
Underlayment that includes a vapor barrier is frequently available, and it can help to keep your wood floors safe from water damage.
Floating floors are frequently recommended for this purpose, but when it comes to keeping water and moisture away from your hardwood floors, any amount of protection is beneficial.
Any space between the boards, no matter how carefully they are put or maintained, can allow water to leak beneath your floor.
It is possible that once the water has poured into the floors from beneath, you will be faced with costly repairs if the boards distort or break.
2. Imperfections in the subfloor
For any hardwood flooring installation, having a level subfloor is one of the most important criteria.
It is inevitable that when you nail or glue a wood floor to an uneven surface, the final wood floor will be uneven as well.
Because of this, not only does your lovely wood floor become a tripping hazard, but it also begins to seem less than pristine.
Prior to installing hardwood flooring, major faults should always be corrected, but minor dips and cracks do not usually necessitate a complete renovation.
The use of underlayment that is thick enough to compensate for small, uneven spots would be less expensive and faster than tearing up the flooring as a whole, assuming that you can obtain such an underlayment.
3. Noise reduction
Simply put, a noisy family with hardwood flooring can generate a lot of noise.
The sounds of children and pets running around and playing in the living room, as well as the background noise of voices, televisions, and general household atmosphere, can quickly accumulate in volume.
Underlayment is available that helps to absorb sound from the air and prevents sound waves from bouncing about the room as aggressively as they would otherwise.
The sound that is created on the floor itself is muffled by other types of underlayment, which is very useful for the upper stories of your home if you do not want to hear every tread from lower levels.
4. Convenience
Another disadvantage of wood flooring is that it is solid, and at times, the cold, surface that is not particularly comfortable to walk or stand on for extended amounts of time.
This may be even more evident if you have chosen a tougher wood floor that is recognized for its resilience and lengthy life expectancy.
Consequently, in these situations, an underlayment will be an additional investment that you will be grateful for on chilly winter nights and any time you walk on sections that are not covered by rugs.
When you walk on a hardwood floor, underlayment provides cushioning for your feet and acts as an insulator against extreme temperature changes.
5. Increasing the stability of floating flooring
If you have installed engineered hardwood as a floating floor, the underlayment will be extremely important to the overall appearance of the floor.
Because floating floors are not attached to the subfloor, they can easily expand and contract in response to changes in humidity and temperature in the surrounding air.
Moisture can also collect in the space between the subfloor and the floating engineered hardwood flooring, causing damage or warping to even the best-engineered hardwood flooring over the course of time.
Options for Underlayment for Hardwood Floors
You can choose between four different varieties of underlayment, each having its unique set of characteristics and capabilities.
Some choices work better for particular types of flooring than others, so make sure you look into the specifics before deciding which option to choose.
When searching for the ideal underlayment for your home, take into consideration the sound ratings and density, as well as the type of material you intend to utilize.
Felt
Felt is one of the most often used varieties of hardwood underlayment today.
This option provides the bare minimum in terms of moisture resistance and noise absorption.
Heavy layers of black felt can be used to provide additional insulation, sound absorption, and moisture resistance, among other benefits.
Thick layers of black felt also give additional padding, which improves the overall comfort of your space.
Felt underlayment is made from recycled materials, making it a green solution for your home.
Felt, on the other hand, is rather straightforward when compared to other underlayment materials.
However, while higher-density felt underlayment provides more protection, it does not absorb as much sound as other choices do.
Foam
Foam underlayment is a cost-effective and simple-to-install option.
The use of foam, like felt, can give additional cushioning for your wood flooring. It also provides flexibility and insulation, in addition to providing additional comfort.
As your wood naturally expands and contracts with the seasons, foam underlayment helps to reduce friction between the floor and the subfloor beneath it.
Another benefit of using foam is that it has a high level of sound absorption, which can significantly lower the level of hollow noises caused by reflected sound waves and impacts against the floor.
Water-resistant foam underlayments, such as those used in basements, kitchens, and other areas where there is a lot of moisture or humidity, are a crucial consideration in order to preserve your wood floors from water damage.
Cork
In spite of the fact that cork underlayment is not as often used as felt or foam, it is a wonderful alternative because of its environmentally friendly components and excellent sound absorption.
Cork is a naturally occurring and replenishable resource.
Cork, on the other hand, is a popular choice for second-story rooms or apartments on higher floors because of its outstanding sound absorption.
Additionally, because of its solid yet flexible nature, this material is ideal for responding to flaws in the subfloor, thereby increasing the stability of your floors.
Cork is also a natural insulator, which can aid in the regulation of the temperature of the floor.
Finally, one of the most notable advantages of cork flooring is that it contains anti-microbial qualities, which inhibit the formation of bacteria and mold on your floor over time.
Cork, on the other hand, is not waterproof.
Cork underlayment solutions that provide built-in water or vapor barrier, similar to foam, should be considered.
Rubber
As a result of its flexibility and pliability, rubber is another choice that is simple to install.
This multi-purpose option provides outstanding sound absorption, moisture resistance, and thermal insulation properties.
The naturally waterproof substance aids in the prevention of moisture problems in your wood, such as the formation of mold or mildew.
It also provides exceptional sound absorption and helps to prevent hollow-sounding flooring from forming on the subfloor.
While rubber underlayment is less common than other types of underlayment due to its higher cost, the ease with which it can be installed and the numerous benefits it provides make it a cost-effective and adaptable option.
As a result, when deciding on the finest underlayment solution for your new floors, the rubber should still be taken into consideration.
How to Select the Appropriate Underlayment
Having learned about the various underlayment materials available, there are a few other considerations to bear in mind when making your final decision.
The quality of your underlayment is influenced by the species of hardwood flooring you choose as well as the unique requirements of the room.
Black walnut, white oak, and red oak engineered wood flooring are all composed of softer woods that require more support and stability from their subfloors to maintain their structural integrity.
Therefore, softer wood species pair nicely with cork or rubber underlayment.
For their part, harder wood species such as hickory or maple don't require the additional support and instead benefit from the insulation and flexibility provided by foam or rubber insulation and rubber.
You should also take into consideration the room in which you intend to put your underlayment. Is there a lot of foot traffic and activity there?
If this is the case, an underlayment that gives additional stability and durability is the most appropriate choice.
Increased sound absorption can be achieved by installing new flooring in a room on the second or higher floor, which prevents your footsteps from reverberating throughout the building.
Before deciding on the type of underlayment to use in your room, take the time to consider what it is that the space most desperately requires.
Our Final Thoughts
Underlayment, also known as underlayment, is a layer of material that can be laid between your subfloor and your new hardwood floor to protect it from damage.
If you are ready to install new wood flooring and you are concerned about time or money, you may wonder if it is necessary to use a professional installer.
It will give stability, sound dampening and cushioning, a moisture barrier, compression resistance, warmth, and will also conceal small subfloor problems when the underlayment is laid beneath your hardwood floors.
Frequently Ask Questions
When it comes to hardwood flooring, what is the best underlayment to use?
When it comes to installing hardwood or engineered wood flooring, cork and foam are the greatest underlayment options.
However, the foam has more give than cork, and while the foam is the more popular choice, we recommend cork instead because of its flexibility.
Cork has less give than wood, so it is less likely to flex beneath your planks of wood.
What do you put down on the floor before you put down hardwood?
Make the subfloor more aesthetically pleasing.
Regardless of whether the hardwood floor you're installing will be floating, nail-down, or glue-down, you must make certain that the subfloor—whether it's plywood, concrete, or plywood over concrete—is clean, dry, flat, and sound before proceeding with the installation.
Is it necessary to use underlayment for solid wood flooring?
Because wood flooring is naturally far more substantial than carpet or other flooring options, it does not require an underlayment to be installed beneath it.
Even so, we would typically advocate using underlay when installing a boards floor over timber flooring because it provides better insulation than the subfloor alone.