How to Fix Scratched Laminate Flooring [6 Working Methods]
Many characteristics of laminate flooring are comparable to those of hardwood flooring.
When they are scratched, however, you will not be able to fix or repair them in the same manner.
Scratches can be removed from hardwood floors by sanding or buffing them.
However, because just the top layer of the Laminate flooring is colored, you will be unable to do so with this type of flooring.
Furthermore, the dark and lustrous surface of your Laminate floor conceals a particleboard core beneath the surface of floor.
Consequently, if you decide to sand out the scratches on the floor surface, you will only succeed in removing even more of the surface than you started with.
As a result, the particleboard seems larger on the screen.
In order to avoid this, you can purchase a laminate touch-up kit, which can be found at any local home improvement store.
Other Related Articles:
How to Remove Laminate Flooring
How to Install Laminate Flooring
How to Lay Laminate Flooring [Step-by-Step Guide]
Article Overview
Despite the fact that laminate flooring is extremely scratch-resistant and incredibly durable, marks and scratches are always possible.
A fresh mark or scratch will always appear on your laminate flooring, whether it's from someone's shoes or lines across the floor caused by furniture movement and rearranging.
The most important thing to remember about scratch marks on laminate flooring is that they are not permanent, and there are a variety of methods for removing them without breaking the budget or paying a professional.
Scratch marks on laminate flooring may be removed and repaired with relative ease, and all of the tools you'll need can be obtained online with relative ease!
With an eraser, you may simply remove a scratch from a surface, cover it with a touch-up marker, or fill larger scratches with laminate putty, depending on how severe the scratch is.
Scratch marks on laminate flooring may be removed and repaired with relative ease, and all of the tools you'll need can be obtained online with relative ease!
With an eraser, you may simply remove a scratch from a surface, cover it with a touch-up marker, or fill larger scratches with laminate putty, depending on how severe the scratch is.
What Causes Scratches on a Laminate Flooring Surface?
It is natural for scratches and dents to occur in flooring, particularly in sections of the home that receive a lot of human traffic and are also neglected in terms of maintenance.
Most of the time, when it comes to Laminate flooring, it might be difficult to prevent the emergence of both minor and deep scratches from occurring.
However, if they do appear on your laminate floor, the good news is that it isn't going to end the world.
Dents or little scrapes on the floor, on the other hand, maybe considered annoying by many people.
The most common causes of scratches and damage to floors are a lack of adequate floor cleaning, the movement of furniture, and the lack of furniture padding available on the market.
High heels and shoes with a harder sole are two more prominent causes of floor denting.
Additionally, your domestic animals, such as cats, dogs, and other pets, might present a significant difficulty when it comes to flooring.
This is due to the fact that the nails of these animals can easily damage the surface of your Laminate floors.
Even more detrimental is the amount of sand, dust, or other unclean things that are tracked onto the floor from the outside.
This type of shambles can be caused by humans as well as animals.
You should be aware that sand and dirt contain fine objects such as glass and gravel, which can cause significant damage to your Laminate floors over time.
8 Ways To Fix Scratched Laminate Flooring
For best results, try to fix scratches and chips as soon as they occur, before they become too deep or difficult to hide with a filler.
You should preferably get a laminate floor repair kit online or from a local home improvement store to avoid this situation.
When purchasing the kit, be sure to take your floor shade into consideration and choose the one that is the closest match to your floor hue.
Aside from the apparent strategy of applying melted crayon to the scratched laminate floor, there is another option for temporarily healing laminate floor scratches.
Some of the different methods for removing scratches from laminate wood floors are discussed in greater detail below.
1. Markers that are laminated
If the scuffs simply will not come off, even after cleaning, you can purchase marker pens that will match the color of your laminate flooring.
These wood markers are intended to hide stains and scratches on the floor, but they will also cover any minor blemishes on the floor.
When placing the marker pen to the scratch, start at one end and work your way around the scratch in short strokes to make sure the entire mark is colored.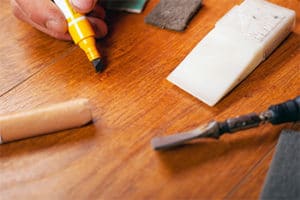 2. Use Masking Pencils and Markers to create a mask
The same as with scratch removal from wood, the most straightforward way for concealing minor scratches in laminate flooring is to use a filler pencil or marker to fill in the gaps.
If you already have one for use in wood flooring of a similar hue, you can use it for laminate floors as well if you have one for that purpose.
Prior to beginning the application process, sweep or mop the floor areas where you will be applying the filling pencil or marker.
Allow it to dry completely before applying a pencil and/or marker to the surface to soften the appearance of the scratches.
3. Experiment with Burn-in Sticks to see whether they work
The laminate floor repair kit includes a set of brightly colored sticks, which can be used to fix the floor.
It is recommended that you read the user handbook thoroughly before using them.
For first-time applicants, the application process may be a little difficult.
The technique calls for the application of the filler with the assistance of an electric-operated knife that is controlled properly.
Despite the fact that they are not particularly user-friendly, these burn-in sticks are efficient for mending large laminate floor scratches, dents, and other similar issues.
4. Make Use of Colored Putty to Add Interest
When it comes to removing deep dents and chips off the surface of a Laminate floor, colored putty is the best solution.
Following the preparation of the colored putty, you will require a putty knife to fill in the dents.
Avoid spilling the putty and sweeping up any extra putty from the floor before it dries out completely.
5. Make certain that the damaged planks are replaced
Sometimes the scratches or dents in the laminate floor are so deep that the above-mentioned treatment will not be effective in concealing them.
As a result, purchasing a new plank to replace the damaged one is the most cost-effective solution.
However, you must take the required care during the installation of the new laminate floorboard, in order to avoid causing harm to the planks immediately adjacent to it.
6. Using Toothpaste to Remove Plaque
You can use Toothpaste and WD 40, which is a popular degreasing product, to clean the surface of the floor.
These materials are excellent in the removal of scuff marks, dents, and scratches from laminate floors and other hard surfaces.
You use them to cover up the scratch marks until they are completely covered over.
Water and vinegar can be used to clean off the paste residue.
Best Way to Avoid Scratch Marks on your Floors
Why go to all of the trouble of having to remove scratch marks from your laminate floors when you can just prevent them from occurring?
In this section, we'll examine several methods for keeping your floors free of scuff marks, chipping, and dents.
1. Remove your footwear and shoes from your feet.
Did you know that little particles of trash that get dragged into our shoes can produce dents or scratches in the flooring?
Furthermore, certain shoe types, such as high heels, have the potential to cause significant damage to floor surfaces.
As a result, you must establish the habit of taking your shoes off before entering your apartment building.
This habit will save you a lot of bother because you won't have to worry about dirt stuck in your shoes finding its way to the surface of your lovely floor.
It is also very convenient.
2. Exercise Caution When Using Furniture
If you have laminate flooring in your home, the movement of furniture is an easy method to dent or scratch.
This is most commonly seen when fittings and pieces are pushed, rolled, or dragged across the surface of the ground.
Using common sense and caution when moving and rearranging all of the furniture in your home might help you avoid or minimize these damages.
If the parts are lightweight, it is preferable to elevate them off the ground.
But heavier objects such as sofas are not included in this category.
Lifting one side of the sofa off the ground and placing a towel exactly beneath it is the best course of action in this situation.
Repeat the process on the other side.
This allows you to safely drag or push the item without encountering many difficulties in any way you see suitable.
In order to provide a permanent soft buffer between your furniture and the surface of your flooring, it is recommended that you attach adhesive felt pads underneath your chair legs.
3. Keep the floor clean on a regular basis
If the house's occupants continue to walk on certain types of debris, such as rocks and sand, scratch marks on the floor may appear.
As a result, maintaining a regular maintenance schedule to remove dirt and debris is essential.
4. Use Furniture Protective Pads
When you have to move your sofas and tables across the room, dragging them across the floor will most certainly leave unattractive marks on the carpet.
Chair dragging is something that many children enjoy doing as well.
You may protect your floors from furniture damage by gluing little pieces of felt under the legs of your furniture.
Alternatively, you might make your own padding solution.
For example, putting bits of rubber and rug cut-outs together is just as effective as gluing them together.
5. Pets should have their nails clipped
If you let your pets run about freely on the floor without clipping their nails, you should expect to notice scratch marks on the floor more frequently.
As a result, having your dog's or cat's nails cut on a regular basis will do you more benefit than harm.
This will assist you in reducing the likelihood of dents and scrapes on your floor.
In addition, make sure you clean up their urine or excrement to avoid a nasty odor in your home or apartment.
Dealing with Visible Scratches and Marks
If you are concerned about removing large scratches from laminate flooring, the only option left is to replace the plank as a whole, which is an expensive proposition.
In the case of extreme streaks and scratches, there is little that can be done to hide or cover the damage.
What you can do is order laminate floor boards in specified sizes and colors that match the color of the current flooring.
Installing laminate flooring without disturbing the surrounding planks can be accomplished by following the do-it-yourself (DIY) instructions.
Instead of having to deal with the headaches of removing scratches from laminate floors, you may avoid them entirely by avoiding them in the first place.
Simply follow the cleaning recommendations for laminate flooring provided by the manufacturer in their product documentation.
Make use of floor mats to collect dust at door entrances and to prevent furniture or similar things from being dragged across the floor.
Most significantly, place floor protectors beneath furniture to prevent damage to the floor.
In addition, never leave the floor wet for an extended period of time because this raises the likelihood of damage by a factor of 10.
Our Final Thoughts
Laminate flooring is a synthetic product that is made up of many layers that are bonded together via lamination.
The top layer is made of durable plastic that is designed to withstand daily wear and tear.
While laminate flooring is rather resilient and intended to last for many years, it is susceptible to scratching and scraping.
Because the surface cannot be sanded, these scratches must be filled in with putty or wax to prevent them from becoming worse.
Frequently Ask Questions
Is laminate flooring susceptible to scratching?
Premium-quality laminate floors are resistant to scratching and abrasion.
As an added benefit of adopting a glueless click-together floating approach, they are not difficult to put in place.
If you compare these long-lasting floors to real wood, you will see that they are more stain-resistant.
The other advantage of laminate flooring is that it does not expand or contract as much as hardwood floors when the seasons vary in humidity and temperatures.
What might cause laminate flooring to become damaged?
The most common problem with laminate floors is that excess water penetrates into the cracks between the boards, causing swelling and damage that is difficult to repair or replace.
With laminate flooring, even a small amount of water can go a great distance.
It is possible that a dry mop will do for the majority of the laminate flooring in your home when it comes to routine cleaning.
What is the best way to repair a scuff on a laminate floor?
It is possible to repair a few minor scratches on a laminate floor by filling them in using a wax pencil that is colored to match the floor.
In order to merge the scratch into the rest of the laminate's surface, wax is used to fill in the scratch.