How to Remove Wood Flooring [2022] (The Ultimate Guide)
Hardwood flooring is a beautiful addition to any home, but it may be difficult to deal with when it comes time to remove or replace it when the time comes.
When you strip hardwood flooring the wrong way, you might end up with hours of backbreaking labor, a large mess, and even irreparable damage to your subflooring as a result.
If you decide to do the flooring removal yourself, it would be beneficial to know how to do the project in a safe and efficient manner.
Begin by sawing the individual boards into more manageable portions, and then pry them up with a pry bar to remove them from the ground.
In the following step, you can either dispose of the items or repurpose them for other creative purposes around your home.
How to Take Up and Remove Wood Flooring
Demolition and removal of an old hardwood floor are straightforward, but it must be done in a systematic manner to avoid becoming back- and knee-breaking labor.
This is the initial phase in the procedure, and it involves determining how much you will remove.
You're removing the entire floor, or just a piece of it, I'm assuming.
After that, you must decide whether or not you will save the wood or dispose of it.
If the wood is in good shape, you may be able to recycle it or donate it to a charitable organization.
The method you use to remove the hardwood will be determined by what you intend to do with it after it is removed.
Finally, you'll need to put together all of your tools and set aside plenty of time for this project.
You can discover instructions on how to remove hardwood flooring, whether you intend to dispose of it or retain it in place in this section.
Tools that Will be Required
In order to remove hardwood flooring, you'll need two sorts of equipment: the tools you'll use to pull it up and the protective clothing you'll need to wear throughout the procedure.
The protective equipment is critical because the process will expose you to nails, staples, shattered wood, and a great deal of dust.
The following is a list of the tools and equipment you will require.
• Protective gear: masks
• Goggles that provide protection
• Heavy-duty work gloves
• Knee pads for construction workers
• Work boots, preferably with steel toes
• Tarps and tape (painter's tape is ideal for this purpose).
Tools:
• Circular saw (also known as a circular saw blade)
• Reciprocating saw (also known as a reciprocating saw) (optional, but really handy)
• A prybar is a tool that is used to pry things open.
• A mallet is a tool used to hit something.
• Hammer (also known as a hammering tool)
• Nail claws are a type of claw.
• A chisel, for example
• Vice grips (also known as vice grips).
• A powerful magnet (optional, but recommended)
• A broom and shovel, as well as a dust bin
A handful of observations about the tools:
In place of a nail claw, the claw of a hammer can be used just as well, while the nail claw may be preferable for use along edges or in other tight locations you may find yourself in.
When it comes to the prybar, a mallet is more gentle than a hammer, although both are effective.
Although a reciprocating saw is not required, it can be used in difficult-to-reach areas more effectively than a circular saw.
However, because of its "play," it should be handled with extreme caution because it can make it impossible to control the depth and straightness of a cut.
How To Remove Wood Flooring Without Damage
Preparing Your Workspace is Important.
Step 1: Sketch a Plan of the Removal Area
Determine how much flooring you'll need to remove and where you'll begin by measuring the area.
You may elect to replace the entire floor with a new one, or you may decide to remove simply a section of it in order to have carpet, tile, or laminate installed in order to modify the arrangement of your floorplan entirely.
Having a clear vision of how you want to proceed will assist you in working more efficiently on the project.
In most cases, it's easiest to start with one or two central boards and work your way outward from there to save time.
With the help of tape, you can clearly define particular boundaries and make cutting and prying more accurate.
Step 2: Lay down tarps to prevent dust and debris from spreading.
Tarps should be used to protect light fixtures, furniture, appliances, and anything else that you don't want to get covered in sawdust once the sawing process begins.
Additionally, you should clear away as much debris from the work area as possible before beginning to ensure that you have the most available space to work.
Remove any laptops, gaming systems, televisions, and other sensitive electrical devices from the room altogether, including the television.
Even if they are protected, the internal components of the vehicle can be compromised.
Tarps should be held down using masking or painter's tape that can be readily removed when you're through.
However, while it may be tempting to skip this step, doing so is not advised.
Cleaning sawdust from unprotected surfaces is a time-consuming task that will add significantly to the overall duration of your job.
Step 3: Make sure you have all of the necessary safety equipment
Before you begin, make certain that you are adequately equipped to do the assignment in a safe manner.
Put on a pair of tough work gloves to protect your hands while running the circular saw, as well as protective eyewear and a breathing mask to keep sawdust and mold from getting into your lungs.
Due to the presence of loose nails and other exposed edges, you should make it a point to wear closed-toed shoes with thick soles while walking around.
Long-sleeved apparel will protect your skin from being exposed to dust and potentially harmful things when working outdoors.
Because you'll be kneeling for hours at a time to pry up the planks, a good pair of knee protectors can be a lifesaver in this situation.
Step-by-Step Instructions
Step 1: Divide the Boards Into Manageable Portions
This phase will be completed with the help of your circular saw.
(A reciprocating saw may be useful in this situation, depending on the size of the space, but it is not required.)
It will be necessary to make cuts that are perpendicular to the direction of the wood boards.
Make the first cut on the floor where the tape has been placed to indicate the area that will be left.
Set the depth of your circular saw to match the depth of the hardwood flooring you're cutting.
If it's 3/4″, adjust the depth of your saw to 3/4″. You will not be able to cut through the subfloor as a result of this.
Make the cuttings every 12-24″ to ensure even distribution.
Shorter boards may be easier to pry up, but you'll be prying them up a lot more than longer boards.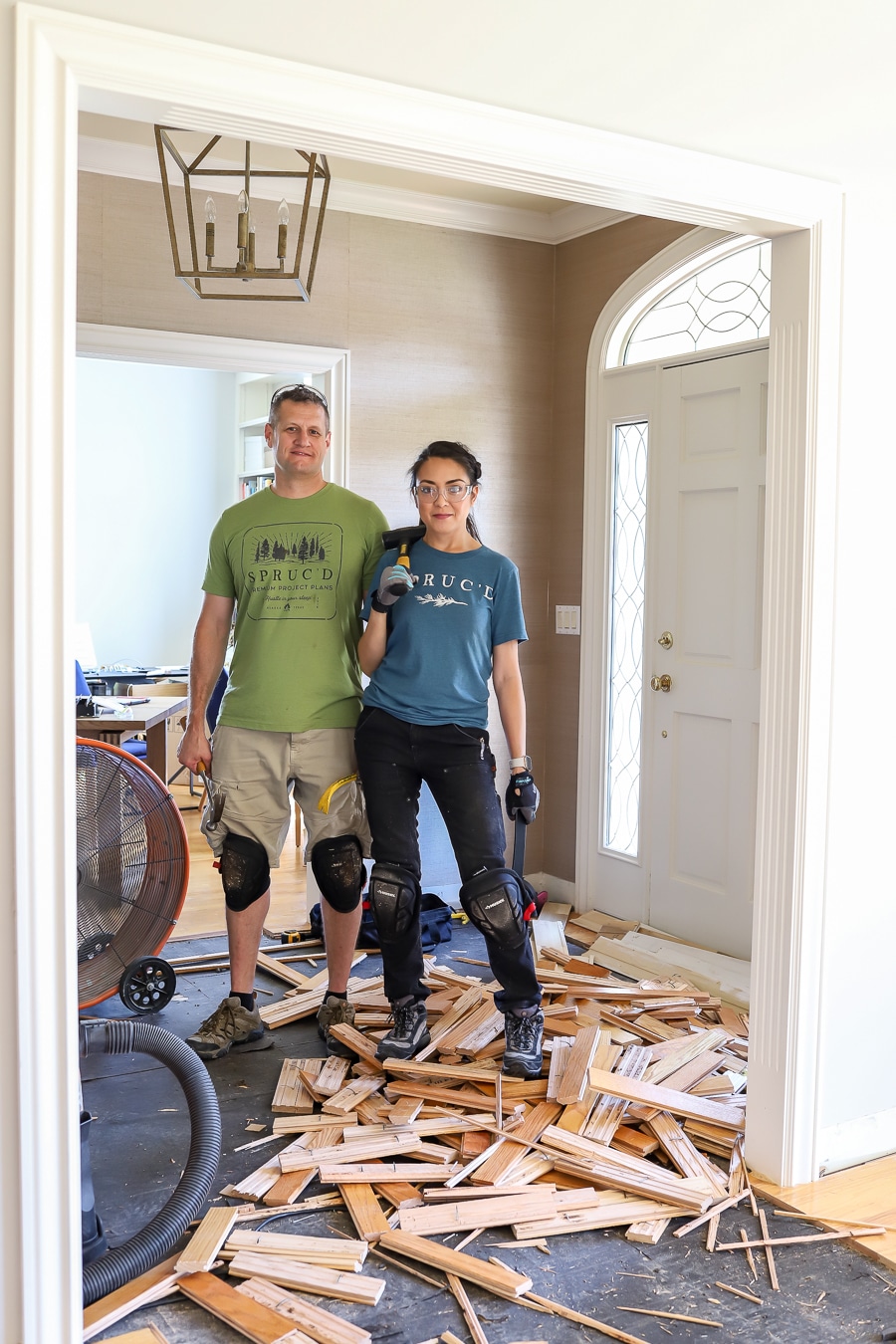 Step 2: Remove the boards using Pliers
It's usually better to begin near the middle of the floor, at one end of the room.
Grab your pry bar and mallet and get to work.
Get the prybar underneath a section of the floor with the help of a partner.
Pulling back on the board should cause it to come loose.
Pry the wood planks in the direction in which they are running for the best outcomes.
Breaking and splintering should be reduced as a result of this.
The chisel can be used to tap beneath the board to make space, then the prybar can be put in position if the screws are stubbornly stuck in place.
Step 3: Dispose of garbage as you go
Make every effort to maintain the space as clean as possible.
As you work, keep a few trash bags or containers nearby, and put the wood and other waste into them as you go.
This will decrease the likelihood of obtaining splinters or being entangled with an old nail or staple.
Step 4: Remove all nails and staples from the wall
Prepare your tools, including a hammer, nail claw, and vice grips.
Remove any nails or staples that may still be present around the room.
You can save time by keeping a small bucket next to you to collect nails and staples as you pull them.
This will also save you time when it comes to cleaning up after yourself.
If you come across any nails or staples that are simply refusing to come loose, you can use a hammer to pound them flat into the flooring with a hammering motion.
Step 5: Clean up After Yourself
Remove as much debris as you can from the area and dispose of it.
For any staples and nails that remain after the removal process, you can use a strong magnet to assist you; otherwise, use your hands or a shop vacuum to remove them.
How to Remove Hardwood Flooring if You Want to Keep the Hardwood.
Okay, so you're going to maintain the hardwood flooring in place.
This will take time, attention, and patience to ensure that the wood remains in good condition throughout the process. Here's how you go about it.
Step 1: Saw one board down the length of the length.
When you sacrifice one board, you acquire access to the length of each and every board after that.
Choose one board that is in the middle of the pack.
For the removal of other boards, you may need to lose more than one board in order to gain access.
Set the circular saw to the depth of the wood (and no deeper, so order to avoid damaging your subfloor) and cut the wood lengthwise with the saw blade.
You may need to sacrifice a number of boards if you have thin planks and cutting doesn't make sense. In that case, skip to Step 2 and start from there.
Step 2: Pry each board one at a time.
Remove each board one at a time using the prybar and extreme caution.
Prying slowly at the place of each nail will help you prevent bending or splitting the boards.
Gently lift up the board by positioning the prybar beneath the wood at one end of the board.
If you hear anything that sounds like strain or cracking, immediately stop!
Once you've elevated it to your desired height, move the board down 6-8″ and lift to create additional space.
When you reach the next nail, gently pry it out of the way.
Continue this process all the way around the board until you have freed it.
This procedure should be repeated for each piece of wood.
If you have a second person to assist you, the process will go considerably more quickly.
Step 3: Remove any nails and staples from the surface
After all of the boards have been removed, it's time to remove the nails and staples that held them in place.
Pull out staples and nails that have been left on the floor with the vice grips, nail claw, and hammer.
After that, carefully remove any staples or nails that may have been left in the wood.
Some nails may need to be pounded loose; only do this if it is absolutely necessary to do so.
A garbage pail or bucket should be kept handy for the collection of the staples and nails.
Step 4: Sweep and thoroughly clean the area around the vehicle
Sweep the area thoroughly to remove any debris.
Then, if you're using a magnet, go around the room gathering any nails or staples that may have escaped your grasp.
Sweep the area once again, and then use a shop vac to gather any leftover debris.
Step 5: Clean and store the hardwood flooring (optional).
Cleaning the wood is as simple as wiping it down with a moist towel.
Clean each component with a damp cloth. Keep it in a cool, dry place until you're ready to reuse or recycle it again.
Our Final Thoughts
Traditional hardwood floors can last for centuries if properly maintained, but they can also be damaged by water, neglected, shifting foundations, or a simple change of décor and require replacement.
I hope that the strategy described above may be of assistance to you!
Frequently Ask Questions
Is it difficult to remove laminate flooring?
The removal of laminate flooring is a simple procedure that requires no expertise.
More recent laminate flooring is not attached to the subfloor and, if removed with care, can be reinstalled on the same surface.
In certain cases, the surface is referred to as a "floating floor" since it is suspended from the subfloor by a foam cushion.
Is removing hardwood floors a difficult endeavor?
If you are not planning on reusing or donating the wood, breaking it into little chunks will make it easier to remove from the ground.
Flooring that has been glued down as well as nailed down will be the most difficult to remove.
Set your saw to a blade thickness that is slightly less than the thickness of the flooring to avoid damaging or cutting through the subflooring.
Is it necessary to remove old hardwood?
The warmth and welcoming appearance of hardwood flooring enhance the appearance of a home, but they are difficult to remove or replace once they have served their purpose.
Remove the planks from your flooring in the wrong way, and you could harm your flooring and cause irreversible damage to your subfloor.